One-time breath of fresh air John Ely is quietly having a stellar 2012, posting a 3.22 ERA in Triple-A Albuquerque with 9.7 strikeouts and 1.8 walks per nine innings. You just don't see those stats with the Isotopes very often. James Bailey of Baseball America has more on the Pacific Coast League All-Star.
"It took a couple of years of getting my head beat off the wall a little bit in this league to try to figure it out a little bit," Ely told Bailey. "The PCL can get to you, man. Ask anybody out here. It's a tough league to pitch in with the travel and the ballparks and the matter that you've got some pretty darn good hitters in this league. I think I underestimated it a little and I probably didn't take it quite as seriously as I should have."
"A lot of it has to do with staying ahead and basically just throwing my best pitches when I have to throw them," Ely added. "You know, making pitches when you need to and realizing, 'OK, this is what I want to do with this pitch right now.' "
Though the Dodgers' rumored trade-market pursuits include starting pitching, Ely would certainly seem to have some renewed value – either as a stopgap starter if the Dodgers still end up needing one, or as a trade chip.
* * *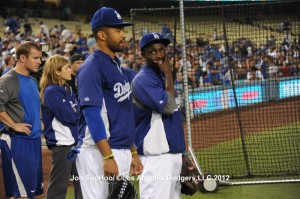 Andre Ethier played in rehabiliation games Wednesday and Thursday and is expected to join Matt Kemp in tonight's Dodger starting lineup, writes Alex Angert of MLB.com.
Ronald Belisario's certainly got the right to go home to Venezuela during the All-Star break, but somehow it isn't surprising that his return to the States was delayed, according to Ken Gurnick of MLB.com (pictured, right, with Ned Colletti). However, Belisario is expected to arrive for tonight's game.
Yasiel Puig's arrival in Arizona is documented by Jesse Sanchez of MLB.com.
Kemp will be featured on the next edition of HBO's Real Sports with Bryant Gumbel, premiering Tuesday.
A midseason review of the Isotopes is provided by Christopher Jackson of Albuquerque Baseball Examiner.
It's a quirk to say the least, but Zach Greinke of Milwaukee tonight will become the first pitcher since 1917 to start three consecutive games, notes David Pinto of Baseball Musings. He faces James McDonald of Pittsburgh.