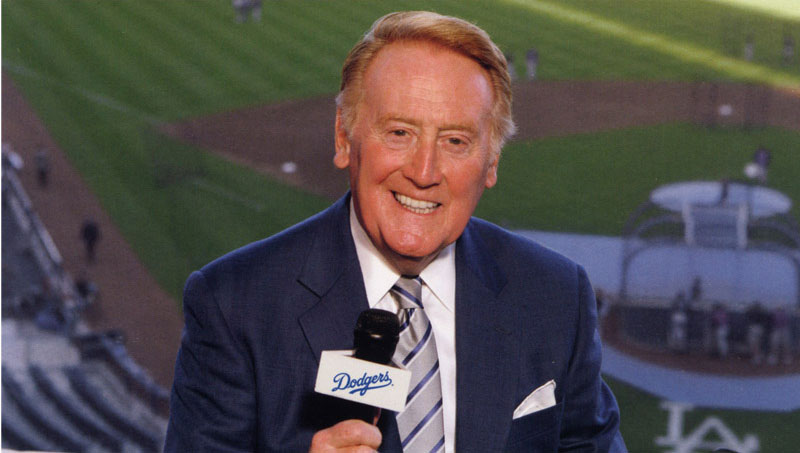 Bill Shaikin of the Times has the best news of a fantastic Dodger summer:
… The Dodgers are expected to announce Friday that Scully, the finest broadcaster in baseball history, will return for a record 65th season in 2014.
Scully is 85. The Dodgers never would kick him out of the broadcast booth, but he respects his audience too much to mumble around a microphone the way Willie Mays stumbled around center field for the New York Mets, in a sad close to a brilliant career.
So Scully takes it year to year. This year, he has been invigorated by the best reality show in town, the richest-to-worst-to-first Dodgers. Next year? Sign him up.
"It has been such an exciting, enjoyable, wonderful season — the big crowds in the ballpark, everybody is talking about the ballclub, and I really respect, admire and love the management — so everything just fell into place," Scully said.
"I really still enjoy it immensely. My health is good, thank God. So why not? And my wife said, 'Why not?' as well.
"Just the thought of walking away from it to retirement — and looking out the window or something? It's just too good. As a baseball man, and someone who has always loved the game, the situation and the conditions are perfect." …
Update: The Dodgers have made it official.
Hall of Fame broadcaster Vin Scully, an icon in American sports history, will return to the Dodger broadcast booth for an unprecedented 65th season in 2014, it was announced. Scully will again call all Dodger home games and road games in California and Arizona.
"I have thoroughly enjoyed the excitement of this season and there is no way I could leave this truly remarkable team and our great fans," Scully said. "With my wife Sandi's blessing, I've decided I'd like to come back and do it again next season. I love what the new ownership has brought to the team, and the energy provided by the fans, who have packed renovated Dodger Stadium. It reminds me that other than being home with my family, there is no place else I'd rather be."
Widely regarded as the finest sportscaster of all time, Scully's 64 years of service mark the longest tenure in his field. He will call all nine innings of the team's television broadcasts on Time Warner SportsNet LA beginning in 2014, with the first three innings of each of his games also simulcast on AM 570 Fox Sports LA.
"The Dodgers are overjoyed to have Vin back with the team in 2014," said Dodger Chairman and Owner Mark Walter. "Vin IS Dodger baseball. The Dodgers, the sport of baseball and the city of Los Angeles are extremely fortunate to have him in our midst.";
"We're so grateful that Vin wants to continue to call Dodger games," said Dodger owner Earvin Johnson, "Being able to listen to Vin helps make every Dodger game something special."
"Vin brings a unique perspective to Dodger baseball," said Dodger President and CEO Stan Kasten. "Everyone in the Dodger family and within the sound of his voice benefits each and every time we are afforded the opportunity to hear him call a Dodger game. We are thrilled to know that experience will continue through at least the 2014 season." …