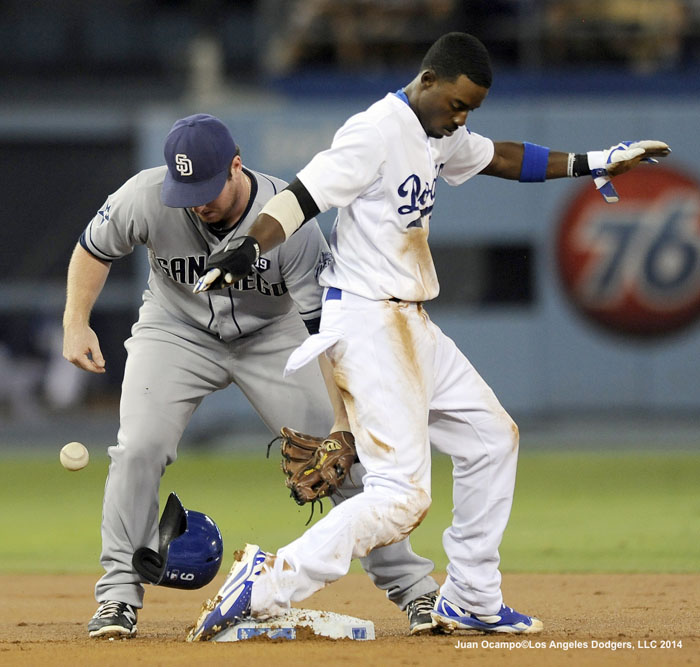 For more photo highlights from Monday, visit LA Photog Blog.
Padres at Dodgers, 7:10 p.m.
Dee Gordon, 2B
Hanley Ramirez, SS
Adrian Gonzalez, 1B
Matt Kemp, RF
Carl Crawford, LF
Juan Uribe, 3B
Yasiel Puig, CF
A.J. Ellis, C
Roberto Hernandez, P
By Jon Weisman
The Major League stolen base title is nearly up for grabs, though it would be an exaggeration to say Cincinnati outfielder Billy Hamilton is coming up fast on Dodger second baseman Dee Gordon. Each player has one stolen base in the first eight days of September, with Gordon ending a seven-game drought in the first inning Monday.
Gordon now has 59 steals and Hamilton 55. After Gordon stole five bases in three games from August 13-15 to take a 12-steal lead, Hamilton narrowed the gap in the last half of August, stealing 11 bases to Gordon's three.
Neither, clearly, is going to have the kind of September that Maury Wills had in 1962, when he stole 27 bases in the Dodgers' final 27 scheduled games, to reach 100 on the nose. Wills then stole four more bases in the three-game playoff against the Giants, October 1-3.
Both Gordon and Hamilton do remain likely to become the first players to steal at least 60 bases in the big leagues since Michael Bourn in 2011. The last Dodger to do so was Juan Pierre, who stole 64 bases in 2007, and the last Dodger to get more than that was Davey Lopes with 77 in 1975.
Gordon's rate of success has fallen from 83 percent before the All-Star Break (43 of 52) to 67 percent since (16 of 24). Opportunities have declined in part because he has walked four times with 38 strikeouts since the All-Star Break.
* * *
Captured in photography: Clayton Kershaw tosses the Dodgers' three-error play to the past. Photo by Juan Ocampo (click to enlarge).