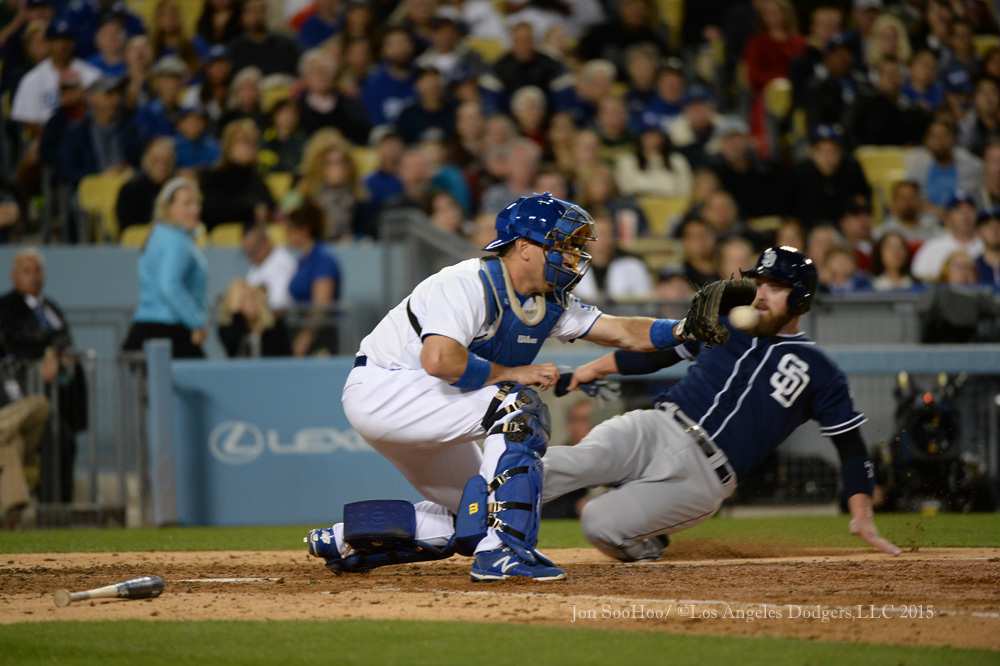 For more photos from Friday, visit LA Photog Blog.
By Jon Weisman
Dodger catcher A.J. Ellis — who was thrust into action midway through Friday's 2-1 victory over San Diego after Yasmani Grandal was injured — has taken some grief in recent times for not being a strong pitch framer. However, according to a report by Harry Pavlidis for ESPN.com, Ellis ranks No. 1 in Major League Baseball in a new statistic measuring game calling: game-calling runs above average (GCAA).
Here's a fun task: Try quantifying something as ephemeral as game-calling. Well, after a decade of research, that's just what we've managed to do — by crafting a statistical model that attempts to quantify the value of everything from stolen-base prevention and directing pace of play to identifying hitter tendencies like swing behavior in various game situations and knowing which batters expand hit zones in RBI opportunities. Sound complicated? Oh, it is. But based on these factors, and controlling for others, we can now quantify, in runs saved, how well catchers manage their pitchers. …

… Ellis is the best game caller in the business, and now we can actually prove it. His game-calling alone saved the Dodgers 38 runs from 2012 to 2014, though he gave back 19 of those runs with everything else he did behind the plate (see below). Does it hurt to be Ellis? At times, perhaps. But at least now, when that ninth foul tip slaps his once-unheralded (but now-appreciated) inner thigh, it might not sting quite so much.
There's not a whole lot of detail in describing the methodology behind GCAA, so we'll see how it stands up to scrutiny. Update: On his Twitter feed, Pavlidis has been adding to the discussion.
Grandal, meanwhile, is uncertain for tonight's game after being hit in the face in consecutive innings Friday by Yangervis Solarte's bat and a Matt Kemp foul ball. Triple-A catcher Austin Barnes was removed midway through Oklahoma City's game Friday in case he needs to be called up. Ken Gurnick of MLB.com has more details.
In other developments …
Hyun-Jin Ryu spoke to reporters post-surgery Friday, and revealed that there was knowledge about his labrum tear two years and 344 innings of 3.17 ERA ago. " Ryu, his left arm in a sling during a Dodger Stadium news conference, said he was always able to pitch with it and figured he'd be able to again after it flared up in Spring Training," wrote Gurnick.
Yasiel Puig and Carl Crawford are not much closer to returning to the Dodger outfield, Don Mattingly told reporters Friday. Puig, who has an .845 OPS in 50 plate appearances, has felt tightness trying to even jog.
Double-A Tulsa righty pitcher (and converted outfielder) Blake Smith was traded by the Dodgers to the White Sox for right-handed pitcher Eric Surkamp. Both are 27 years old. In 53 2/3 career MLB innings, Surkamp has a 6.20 ERA with 33 strikeouts against 98 baserunners. For Triple-A Charlotte this year, Surkamp has a 2.81 ERA with 30 strikeouts against 28 baserunners in 25 2/3 innings.
Carlos Frias' ongoing adjustments are the subject of Daniel Brim's piece on Carlos Frias today at Dodgers Digest.
The Dodgers' offensive scoreless-inning streak ended at a record-tying 35 innings with Andre Ethier's RBI double in the fifth, though they didn't score an earned run until Joc Pederson's game-winning homer three innings later.
Chris Hatcher, who threw 1/105th of the pitches that Zack Greinke threw, was credited with his first career Dodger victory.
Kenley Jansen struck out two in his perfect ninth inning. His K/9 dropped to 21.0.
Pederson has struck out four times in his past 39 plate appearances (10.3 percent). Prior to that in 2015, he had struck out 43 times in 127 plate appearances (33.9 percent).
[mlbvideo id="127025883″ width="550″ height="308″ /]