By Jon Weisman
First baseman Adrian Gonzalez is the only member of the National League West-leading Dodgers (and NL's No. 1 offense) in first place at his position in the initial release of NL All-Star voting numbers.
Gonzalez has nearly twice as many votes as second-palce Anthony Rizzo of the Cubs, but otherwise, the Dodgers need help — especially Joc Pederson, who (as you'll see detailed later in this post) ranks No. 1 among NL center fielders in Wins Above Replacement.
It's worth noting that Gonzalez was the NL leader among first basemen at this stage last year, only to eventually lose out to Paul Goldschmidt of Arizona.
Fan voting continues through July 2. You can read more about the selection process here. Click the image below to enlarge the current results.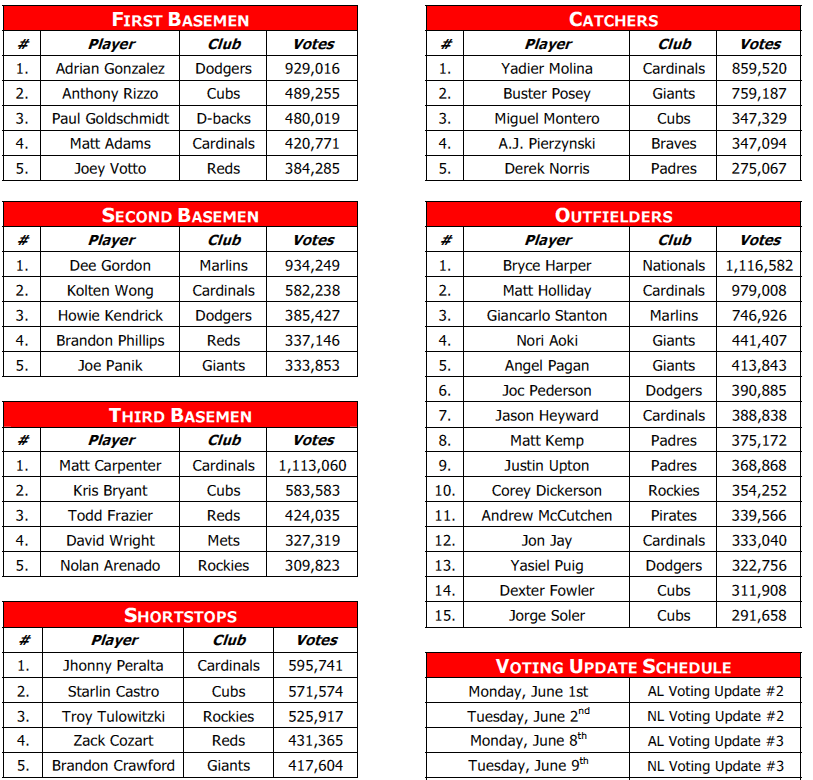 For some perspective, here's where the top Dodger All-Star candidates rank in WAR, according to Fangraphs.
Gonzalez is first among first basemen, a hair ahead of Goldschmidt and Rizzo. Tuesday's home run was only Gonzalez's second of May, but he still has a .411 on-base percentage and .481 slugging percentage this month. Gonzalez has been in four All-Star Games, but none since joining the Dodgers in 2012.
Dodger rookie Pederson leads NL center fielders in WAR, not insignificantly: 0.3 ahead of No. 2 A.J. Pollock and 0.7 (50 percent higher) above No. 3 Dexter Fowler. And that's with Pederson losing a bit of value because of his sub-par baserunning so far this year. Thanks in part to Andrew McCutchen's slow start, no one is even close to Pederson offensively in center.
Overall NL voting leader Bryce Harper and Giancarlo Stanton dominate the national headlines and rightly so, but right behind Stanton in right field WAR is Andre Ethier, whose wRC+ is actually better than Stanton's. An NL Comeback Player of the Year candidate, Ethier (like Gonzalez) last reached an All-Star Game in 2011, but given that he is fifth among all outfielders in WAR, his chance to make the game as a reserve is fairly strong.
[mlbvideo id="131526483″ width="400″ height="224″ /]
For the record, Yasiel Puig (50 plate appearances) is 16th in WAR in right field, and 13th on the current outfield ballot.
Yasmani Grandal is fourth in WAR at catcher, behind Buster Posey, Derek Norris and Miguel Montero. Currently on the seven-day concussion disabled list, Grandal has the fewest game and plate appearances (tied with Brayan Pena) of anyone in the top 10. On the offensive side, Grandal ranks second.
Also sitting in the No. 4 spot is Howie Kendrick at second base, behind 2015 ballot leader Dee Gordon, Kolten Wong and Joe Panik. Of note: When Kendrick went 0 for 8 May 22-23 against San Diego, that was the first time all season he hadn't reached base in consecutive games. Kendrick's only All-Star appearance came the same year as the most recent one for Ethier and Gonzalez, in 2011.
[mlbvideo id="132972783″ width="400″ height="224″ /]
Justin Turner and Alex Guerrero aren't on the All-Star ballot, but they sit in fourth and seventh positions at third base. Neither has 100 plate appearances yet this season (Turner is at 99), and Guerrero has actually only played nine games at the hot corner (Fangraphs doesn't separate players by games played at each position on its rankings). Turner at least has 22 games, but it's still an uphill battle for him to leapfrog such candidates as Matt Carpenter, Todd Frazier, Nolan Arenado and Cubs rookie Kris Bryant. In case you're wondering, Juan Uribe is just outside the top 20.
You'll also find Guerrero in fifth place in left field, two spots ahead of Scott Van Slyke. Nori Aoki, Justin Upton, Charlie Blackmon and Matt Holliday lead in left field. Guerrero's best shot would be if he keeps hitting, and the NL falls in love with a combination left fielder-third baseman from Bruce Bochy's division rival.
Jimmy Rollins is one spot ahead of 2013-14 All-Star Troy Tulowitzki in WAR at shortstop, but unfortunately that's down at 12th.