Mets
Curtis Granderson, RF
David Wright, 3B
Daniel Murphy, 2B
Yoenis Cespedes, LF
Travis d'Arnaud, C
Lucas Duda, 1B
Wilmer Flores, SS
Juan Lagares, CF
Steven Matz, P
Dodgers
Kiké Hernandez, CF
Howie Kendrick, 2B
Adrian Gonzalez, 1B
Justin Turner, 3B
Corey Seager, SS
Yasiel Puig, RF
A.J. Ellis, C
Justin Ruggiano, LF
Clayton Kershaw, P
By Jon Weisman
In a reversal of 2014, Yasiel Puig will make his first postseason start in more than a year when the Dodgers play the Mets tonight in Game 4 of the National League Division Series.
Facing a left-handed starter (Steven Matz) for the only time in the NLDS, Don Mattingly has put right-handed hitting outfielders Puig and Justin Ruggiano in place of Andre Ethier and Carl Crawford, who have typically sat against southpaws in 2015.
Also back in today's lineup is catcher A.J. Ellis, no surprise with a lefty pitching for the opposition, Clayton Kershaw pitching for the Dodgers and Yasmani Grandal appearing to have aggravated his problematic left shoulder in Monday's 13-7 Game 3 loss.
Memorably, Mattingly substituted Ethier for Puig in Game 4 of the 2014 NLDS, after Puig started the first three games. In each game, the Dodgers needed a win to stay alive in the playoffs. As Eric Stephen of True Blue L.A. notes, the Dodgers have lost six straight elimination games on the road in the playoffs, last winning one in 1981.
Ethier is 3 for 10 with a double and two walks in the NLDS, but he has a .474 OPS against lefties in 2015 and .635 for his career.
Puig has struck out in both his NLDS at-bats this year. Against St. Louis in the 2014 NLDS, he struck out eight times but also had a .357 on-base percentage, including a triple and a walk. Puig was retired on contact one time in 14 plate appearances.
"We haven't seen a bunch of at-bats, but we knew if they had a lefty going, he'd be playing," Mattingly said this afternoon. "He'd be kind of taking the (Scott) Van Slyke spot."
In his postseason career, Puig has a .351 on-base percentage and .396 slugging percentage in 57 plate appearances. In the 2015 regular season, Puig had a .322 OBP and slugged .436 in 311 plate appearances.
"It's just been up and down," Mattingly said of Puig's year, citing his struggle to stay healthy. "He just never got any kind of true rhythm through the course of this year. Actually, he swung the bat good early, got hurt, came back … it's just been kind of a stop-and-start type year.
"Being a player who went through quite a few (injuries) at the end of my career, it's just hard to put a real good season together when you're in and you're out, you're in and you're out."
Crawford is 1 for 11 in the playoffs, while Ruggiano is 0 for 2 in his first career playoff action at age 33. Ruggiano has a .948 OPS against lefties this year.
Grandal had the Dodgers' first two RBI in Game 3, but as Ken Gurnick of MLB.com tells us, he "grimaced in pain" during an eighth-inning strikeout.
In that at-bat, Grandal grabbed his left shoulder after fouling off a pitch, then struck out on a low pitch and dropped to a knee while wincing.

"It's one of those things we know it's there, and at some point it will come back again," Grandal said of the shoulder pain he's been dealing with for two months. "Some days it hurts, some days it doesn't. I do what's needed to be done and go from there."
Ellis is 1 for 3 in the NLDS and has a 1.132 OPS in his playoff career over 56 plate appearances.
Matz made the second of six career starts July 5 at Dodger Stadium, shutting out Los Angeles on two hits and two walks while striking out eight. Kiké Hernandez and A.J. Ellis had singles, while Van Slyke (now injured) drew both the walks.
The 24-year-old hasn't pitched in an official game since September 24, when he allowed three runs on 10 hits in 5 2/3 innings at Cincinnati, striking out eight before coming away from the game with back spasms. Five days ago, he threw 80 pitches in a simulated game and said he felt "really strong."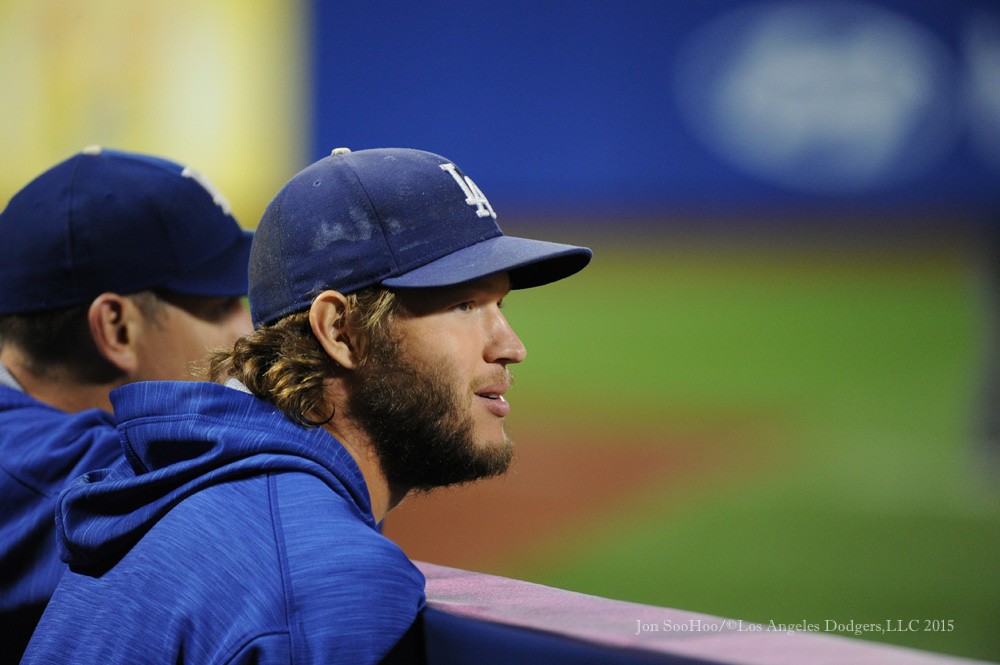 As noted Monday when he was announced as the Game 4 starter, this will be the third consecutive year that Kershaw has made a playoff start on three days' rest. In the previous two attempts, he did not allow an earned run in the first six innings. In seven playoff starts since 2013, Kershaw has allowed 10 earned runs in his first six innings of work (2.25 ERA) and 12 earned runs in the seventh inning (46.35 ERA).
Corey Seager is back in the starting lineup at shortstop after a one-game absence, though he singled in the ninth inning Monday. Chase Utley is again in uniform off the bench tonight for the Dodgers. The latest update is that Utley's suspension appeal will likely be heard next week, after the NLDS.