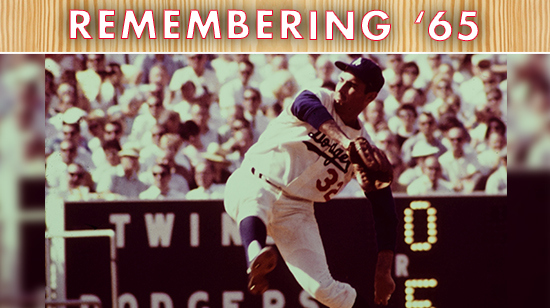 By Jon Weisman
In 1965, Sandy Koufax showed he could pitch on two days' rest. Don Drysdale showed he could be his own run support.
In Game 6 of the 1965 World Series, Minnesota righty Mudcat Grant showed he could do both.
In his third start of the Fall Classic, Grant pitched a complete-game five-hitter and hit a three-run homer to lift the Twins to a 5-1 victory on October 13, 1965, setting up a deciding Game 7.
"The amiable 30-year-old swinger, who has a night-club act booked after the series, showed more zip in his third appearance than in the other two," wrote Frank Finch of the Times.
After pitching a shutout in Game 3, Osteen was working on a 12-inning scoreless streak when, after a Dick Tracewski error, Bob Allison homered to give the Twins a 2-0 lead in the fourth — the first homer allowed by Osteen in his past 61 innings.
"The moment I let the ball go I said to myself, 'Oh no,'" Osteen said. "It was a fastball, but too high."
Osteen's day ended in the top of the sixth when Tracewski led off with a single, and Walter Alston sent 19-year-old Willie Crawford up to pinch-hit. Grant struck Crawford out, and after a single by Maury Wills, retired Jim Gilliam and Willie Davis to end the Dodgers' best scoring threat of the day.
It would have been less of a surprise if Alston had used Drysdale to pinch-hit, but according to Finch, Drysdale was nursing a sore right hand after a tight pitch sawed off his bat at the handle on a foul ball in Game 4.
Then, in the bottom of that same inning, reliever Howie Reed walked Allison with one out. While Don Mincher struck out, Allison stole second — a call "hotly argued" by Wills, according to Finch. (Replay, anyone?)
Alston had Reed walk Frank Quilici intentionally to get to Grant, who hit .155 in 1965 but had five career MLB homers. As Charles Maher of the Times wrote, Grant flied deep to Terry Larson.
"This fly ball was significant because Terry Larson does not play for the Dodgers," Maher said. "Terry is a school boy and he was sitting in the left center field bleachers when the ball came down."
Said Grant: "I was looking for a curve. I knew that pitcher was going to give me a curve before he was finished with me."
[mlbvideo id="20085187″ width="550″ height="308″ /]
Leading 5-0, Grant gave up a harmless solo home run to Ron Fairly in the seventh, but the Dodgers got no other runners past first base.
And so, in a World Series in which the home team won the first six games, it was left to Alston to decide who would start Game 7: Drysdale on three days' rest, or Koufax on two days' rest.
"I won't decide until morning — maybe not until game time — because I want to think about it," Alston said, according to Times sports editor Paul Zimmerman, though Alston added that he would prefer to use the left-hander. A threat of rain postponing Game 7 for a day would ensure Koufax as the selection.
Koufax said he was ready to go.
"I feel good. My arm feels good. There's nothing to save my arm for after tomorrow. If I'm asked to pitch, I'm not going out there to lose."