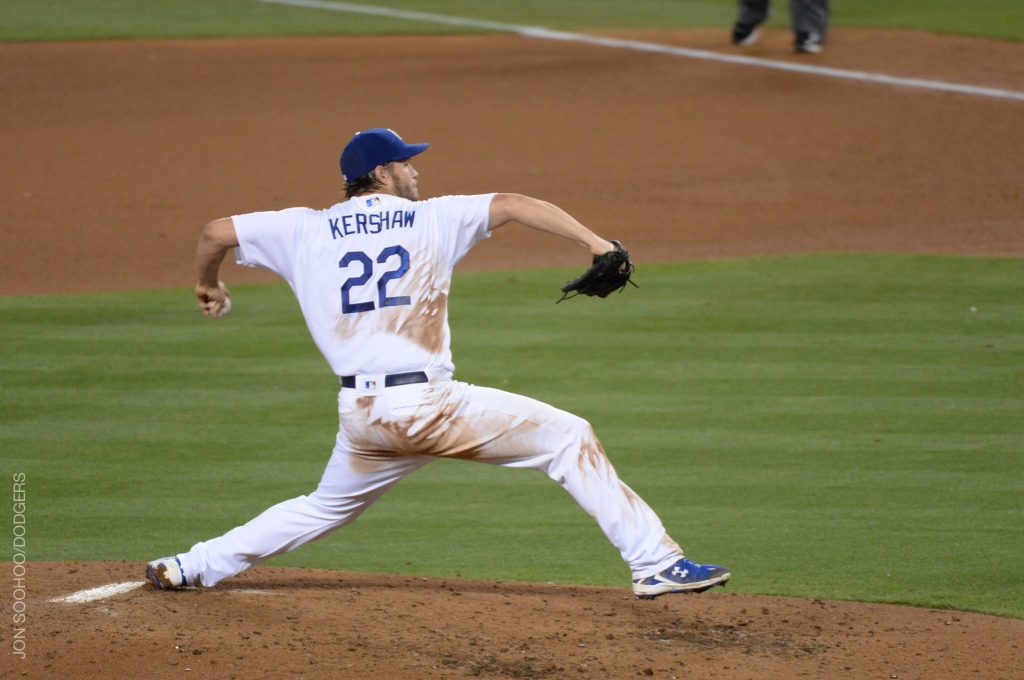 By Jon Weisman
Clayton Kershaw gets dirty.
That's the thing. He's so precious, that you want to protect him like a porcelain … well, like a porcelain Kershaw.
But Clayton Kershaw must think he's Nerf or something. He leaps, he dives — he barrel-rolls if that's what it takes.
Tonight, in the third inning, Kershaw singled. And then Chase Utley singled, and Kershaw took off. While all the Dodger fans clutched their hearts for dear life, like their boy was heedlessly dashing into the street to retrieve his ball, Kershaw rounded second and careened toward third.
He slid, hard, into the base, where the baseball was waiting for him, courtesy of Mike Trout. He was out. We was scared.
[mlbvideo id="707679883″ width="550″ height="308″ /]
And then with that streak of Dodger dirt along his side and on his rump, Clayton Kershaw got up, walked back to get his glove, returned to the mound, and proceeded to finish dominating his latest Major League opponent.
In eight innings, Kershaw struck out 11 Angels and walked none, extending his unique Major League record, in a 5-1 victory by the home team at Dodger Stadium.
It was the sixth consecutive game that Kershaw had whiffed double-digits without walking more than one batter — two more games than anyone else has had. In addition, Kershaw is within one of Randy Johnson's NL record for consecutive games with at least 10 strikeouts, and two of Chris Sale's MLB record. (Pedro Martinez has the record crossing over two seasons of 10 games.)
And now, process this. For the season, Kershaw now has 88 strikeouts and still only four walks. Twenty-two strikeouts for each walk.
In his past five starts, he has 58 strikeouts. And one walk.
Kershaw's triumph didn't come without a hiccup. In a bizarre streak to start the second inning, Angels batters hit five of his first eight pitches right up the middle. Kershaw fielded two, but the other three shot past for singles that led to a 1-0 lead for visitors.
But after that, Kershaw faced 21 more batters, and retired 20, finishing his night with 107 pitches. He averaged 13.4 pitches per inning, right in line with his MLB-leading and career-best average.
Meanwhile, the Dodgers — who have averaged more than five runs per game in support of Kershaw this season — once again didn't let him go to waste.
The exacta that came in the bottom of the third after Kershaw's one-out single was one you'd never have bet on — Kershaw being thrown out trying to go from first to third on a Chase Utley single, and then Trout having a Justin Turner fly ball bang right off his glove for a run-scoring error.
Then came the game of "Can you top this?" from Joc Pederson and Corey Seager.
[mlbvideo id="707860383″ width="550″ height="308″ /]
Pederson broke the 1-1 tie in the fourth with a two-run home run, scoring Howie Kendrick ahead of him. It gave Pederson sole possession of the team lead in home runs for 43 minutes, until Seager blasted a 109 mph home run down the right-field line. But 13 minutes after that, Pederson retook the lead with a 105 mph shot to dead center.
It was third consecutive night a single Dodger has homered twice in a game, after Seager on Sunday and Trayce Thompson (2 for 3 with a walk tonight) on Monday. Pederson now has 34 career home runs, and 14 of them have come in the month of May.
Kershaw's last three starts are averaging 2:11 in total game time.