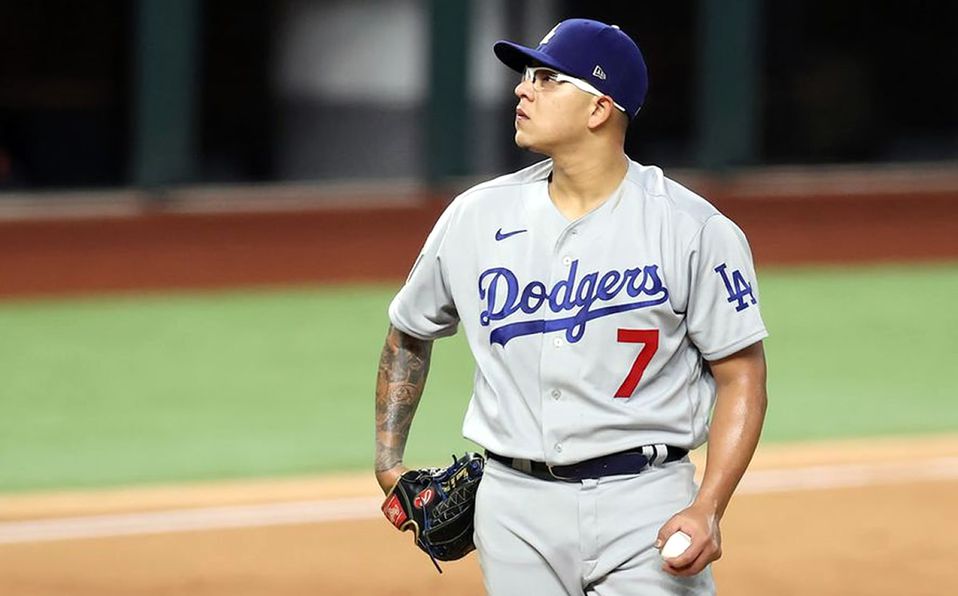 Having glanced a snapshot of the position players on the Opening Day roster for the Dodgers, let's now turn to the pitchers.
Clayton Kershaw is 167 innings away from 2,500 in his career, and its possible that he'll face his 10,000th batter before 2021 is over. Kershaw has defied the physical toll on his body to remain a top pitcher in baseball, lowering his ERA to 2.16 in 2020, but if pressed, I expect that ERA to move out of the 2s this time around. If he's no longer a No. 1 starter beyond the honor of Opening Day, he's lasted longer in that role than we had a right to expect. Here's hoping he lasts even longer in a Dodger uniform — past 2021. (Earlier this week: Fun, funny and funky facts about Kershaw at Coors)
I've kept quiet about the Trevor Bauer signing except for a single tweet, which was not related to his baseball skill. As far as his performance on the mound, I expect the defending National League Cy Young Award winner to be durably effective — though no pitcher is invulnerable — and in a best-case scenario, a lot of fans will be left wondering what the negative fuss was all about. But I still can't say I'm excited about him.
Here's a weird question for you: Will Walker Buehler win 100 games in his career? On first glance, it seems impossible that he wouldn't, but he's at 24 wins as his 27th birthday nears, and the way the game is changing, combined with injury and labor risks, merely getting 76 more Ws will be an achievement for Buehler, even if he's the dominant arm most of us expect.
We shouldn't lose sight of how remarkable it is that Julio Urías came back from serious shoulder surgery in 2017 to become the force that closed out the Dodgers' World Series title. This is the 24-year-old's ninth professional season with the Dodgers, and I'm ready to predict he will be in his first All-Star Game before the 10th is over.
Dustin May is a No. 5 starter the way that Wallace Shawn is a No. 5 actor in The Princess Bride. It's a designation that far undersells the talent. Still only 23, the righty needs to show he can be relentless for the entire length of a start as opposed to portions of it, but may he? May may.
And the thing is this: Guys like David Price, Tony Gonsolin and Jimmy Nelson take the pressure off starters like Kershaw, Urías and May, because they can easily rotate through a couple of two-inning stints a week. Price's move to volunteer for the bullpen was a surprise a month ago but makes delicious sense. He's 35 years old coming off a year's rest, with $64 million still owed to him and little left to prove individually. In retrospect, is it any wonder he looked at the dearth of lefty relievers on the Dodger staff and offered to pull a pseudo-Smoltz? Nothing rules out him returning to the starting rotation, but this is a terrific way for Price to ease back into action.
Gonsolin retired the first nine batters he faced in the 2020 playoffs. Of the remaining 37, 18 reached base and nine scored, for a 12.79 ERA. I don't really know what happened there, and though the Dodgers did some questionable maneuvering, I'm not quite ready to write Gonsolin's struggles off to irregular usage. This year, Gonsolin was probably very close to grabbing the starting rotation that May snagged, so I tend to think he's next in line at the outset of the season, ahead of Price. He'll need to prove at that point he can get to his 2020 regular season form, otherwise the fate of Ross Stripling might await him.
Amid the requisite skepticism about his health Nelson flew under the radar for most of Spring Training, and the buzz about his former Brewers teammate Corey Knebel has been even quieter. It wouldn't surprise me if the duo quickly became the talk of the Dodger bullpen. My hopes are really that high. Neat discovery: Knebel and I share a birthday. He's only (gulp) 24 years younger.
Victor Gonzalez, bullpen mainstay. Bullpen rock. Yeah, that's right. The guy with 27 innings of MLB experience — including the playoffs — is the Dodgers' No. 1 lefty reliever, and not by default. He struck out 23 while walking two in the 2020 regular season, and he has yet to give up a home run to a major-league batter. In the sixth inning of the final game of the World Series, he struck out the side. Everyone should know him.
Scott Alexander is on the thinnest ice, leash, whatever you want to call it. Alexander had a weird 2020: He pitched regularly through August, with a 1.54 ERA while stranding five of six inherited runners. But he walked seven in 11 2/3 innings, and after he gave up two run in less than an inning on September 1, he wasn't heard from again. Left off the 2020 postseason bullpen, he was the last man to be added to the 2021 Opening Day roster, and I'm honestly surprised that happened. With the Dodgers opening the season at Coors Field, there's no better time for him to prove he can get the groundball outs he has made his reputation on.
It's unclear when Brusdar Graterol will be ready to go this year. I'm speculating, completely without any substance to back it up, that Graterol is working his way back from coronavirus. Whether that's accurate or completely in my head, we have no clear signal of what to expect from the fab flamethrower. Once he returns, the big question will be whether he will get the strikeouts that were surprisingly sparse in 2020. Even if they don't come in droves, there's little doubt the Dodger bullpen is better with him in it.
On the other hand, Joe Kelly is basically Brandon League with better memes. He's been just way too inconsistent to pine for.
Blake Treinen, like Kenley Jansen, is 32 years old — only Treinen is signed through the 2022 season with a 2023 club option, while Jansen is likely staring down his last season as a Dodger. Treinen was not as good as Jansen in 2020, in the regular season or the playoffs. That's as it should be. Jansen is supposed to be better — the greatest reliever in Dodger history (although we'll entertain votes for Ron Perranoski). But my point is that because of those expectations, many Dodger fans remain ready to throw Jansen under the bus … even when the alternatives aren't necessarily better. Best to appreciate both for what they offer while recognizing their limitations.
With Jansen, I still say it's not about the stuff, it's about the command. He simply has little margin for error. We know, by now, that his velocity might be up one day and down the next. It doesn't make sense for him to be an everyday closer, not with the alternatives the Dodgers have. But Jansen is still a warrior. He's a damn lion, as far as I'm concerned.