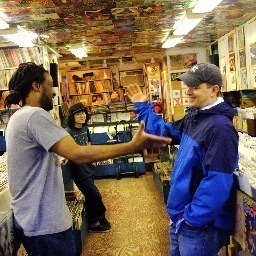 It's not easy for me to stop and smell the roses before they've been delivered. But somehow it registered before the first pitch: Today, the Dodgers will officially be at Yankee Stadium for the first time since the final out of the 1981 World Series.
In the name of all that is Hiroki, if that isn't enough reason to pause for a conversation with my blogging hero and former Baseball Toaster teammate Alex Belth (far right, opposite not me), the man of Bronx Banter, I don't know what is.
JW: So Alex, how have the past 32 years been treating you?
AB: Welp, it didn't start well. I remember waking up the day after the Dodgers beat the Yanks in the '81 Series. I heard the news on WABC radio followed by Howard Cosell's commentary. I was 10, my parents had just split up, and I cried on the spot. All that remember from that Series was a string of errors and blown leads when the Yanks were in L.A.
Then things just got worse for the next decade. The Yanks got worse, the Boss became an uncontrollable ogre and the Mets were the darlings of the town at a time when bragging rights meant something – meaning me being in middle school and high school.
But who can complain? Cause a few years after college the Yanks went on a run that would humble even the most entitled and pompous fan. So they've only won one World Series since 2000. This is something to complain about?
Truly an odd year for them so far with tons of injuries and a ever-changing lineup of players that make even dedicated followers say, "Who?" And yet – even as their Cinderellas have turned back into pumpkins – they are hanging around mostly due to good pitching – thank you Hiroki Kuroda. And Mariano Rivera's final season has been an honor to follow, of course.
And the Dodgers? Nu? What gives? How much angst is there for another big-dollar team wrecked by injuries and underperforming stars? And a bonafide folk hero?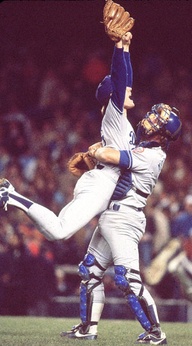 JW: My teenage years were basically spent wondering why the Dodgers couldn't win every year. Having Ozzie Smith and Jack Clark beat you with home runs in the National League Championship Series was a crushing disappointment with little silver lining. But ever since '88, we've been relieved just to make the playoffs. In the past 25 years, there has not been a single moment the Dodgers have played a game to win a World Series berth. The echoes between the Dodgers' unfulfilled dreams and my own – not that we haven't both had fantastic moments through the years – are basically responsible for Dodger Thoughts existing.
Going into this season, I never bought into the idea that the Dodgers' newfound wealth guaranteed any real success. But I have to say I never expected to spend a huge chunk of the season in last place in the NL West. The Dodgers haven't even had as much as a three-game winning streak since early April. Yasiel Puig is reaching base at a .500 clip, and the Dodgers have kept right on losing. Even with the team remaining only 7 1/2 games out of first, it's going to take a series of massive individual turnarounds alongside Puig to get them into the race.
AB: This is a decent Yankee season to smell the roses because, payroll aside, they were predicted to be in last place by so many people who make predictions at the start of the season. Pettitte, Rivera and Jeter are in their last act, the transition is about to happen. So expectations were lowered. There is less excitement about them in New York this season but in some ways they've been a pleasure to watch because they've been better than decent with a lot of spare parts.
In my mind's eye I still think of the Dodgers as West Coast royalty and forget how long it's been since they've been in the World Series. It doesn't quite compute. And these days I sort of like them because Mattingly is their manager. What do you make of him? Is he well-regarded out there?
Are the Dodgers unlucky or are there some chumps on their team?
JW: When the Dodgers didn't extend Mattingly's contract before the season, it was assumed he needed to at least make the playoffs to make it to 2014. As you can imagine, that ship is ready to leave port. While the daily updates of his status have receded a bit, and there's an understanding that the injuries the Dodgers have had have been devastating, you can basically assume that next year's managerial job is open.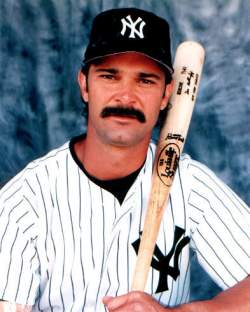 I don't think Mattingly is much worse than 90 percent of the guys you see in that role – he makes inexplicable decisions, but truly, who doesn't? It doesn't particularly pass the logic test that he is being singled out as the fall guy while general manager Ned Colletti has job security — objectively speaking, if one should or shouldn't be safe, why not the other? But as with any position, the Dodgers are entitled to ask themselves if they can do better. For all we know, Mattingly might go on to have a Joe Torre like career – maybe it'll be his third or fourth job where it really takes off for him.
The Dodgers have been anything but lucky in the health department, and you could argue that their struggles with runners on base, which define their offensive failings this year, are another element of bad luck. The bullpen has been almost completely unreliable, as bullpens simply sometimes are. But there are guys who just have flat out not been producing, like Andre Ethier and Matt Kemp (the latter still recovering from his labrum surgery while dealing with hamstring issues).
With my time to write about the team limited in the past several months by my day job, I have not wallowed too much in their failings. Clayton Kershaw remains an ongoing delight, and Puig brought a burst of excitement. Baseball is addictive in part thanks to how much fun can pop up even with an absolutely, unbelievably frustrating ballclub.
I'd like you to talk about your approach to Bronx Banter in the post-Toaster era. You haven't stopped being a Yankee fan, but it isn't all-consuming for you. How did things evolve?


AB: I'm as much of a fan as ever, but the site is less focused on the Yanks. That was a conscious decision and one that happened naturally, really. One thing was back in the Toaster days, and even the early days when the site was hosted by SNY here in New York, I had Cliff Corcoran as a co-writer, not to mention a group of regular contributors. That helped bring perspective and depth to the Yankee coverage but also took the pressure off of me to only write about the team. Also, during the Toaster years I had ambitions to become a baseball writer somehow and thought that covering the Yankees exclusively was the ticket. But the nature of blogging changed, I don't know the years exactly, 2005-2006?, and you had Pete Abraham at the Lo-Hud paper doing a blog from inside the clubhouse, with access. And he just killed it, just as his successor Chad Jennings does. Then there were new Yankee blogs, tireless and fresh like River Ave Blues, that were run by guys younger than me and speaking to a younger crowd or a more analytical mindset.
Initially I thought being with SNY would get me more access to the team but that didn't happen. Even if it had, though, I think I would have quickly tired of just writing about the Yankees or even just baseball. By this time I'd written a book on Curt Flood, edited a collection of Pat Jordan's sports writing, and was really more interested in writing bonus pieces, character studies, than about baseball. I didn't think of myself as an analysts or, God help me, an expert on anything other than being a fan. So the kind of column-writing that was available at a place like SI.com was fun for a while because I got to go to the games, talk to players, but it got dull pretty fast. And so what was once an ambition became a dead-end.
I'd always snuck in memoir stuff on the Banter or something about life in New York so I just decided to follow what interests me and that's how the site became more a NYC-culture site. There's still an emphasis on the Yanks, and a loyal group of commenters who follow the games, but I'm not sure I've got much interesting to write about baseball these days. And I save most of my considered writing time for other projects. That said, I'm as happy doing the Banter now as I've ever been.
I was always amazed that you held down Dodger Thoughts by yourself. Do you miss it now that you don't do it as often as you had?
JW: Essentially, what you've done with Bronx Banter is very similar to what I would have liked to have done with Dodger Thoughts, because there's so much more I like to write about in addition to the Dodgers, but I simply haven't been able to pull it off. Dodger Thoughts is kind of a source of pain for me. The site's foray into the paid content world was a mixed blessing to say the least. And when that period ended, somewhat coincidentally, things with my day job at Variety made the level of posting I did for the first nine years impossible to maintain. I've gone back to semi-regular posting since the 2013 season began, but it's not quite the same. The readers who have stayed with me have been tremendously forgiving of how inconsistent I have been, but others justifiably took their clicks elsewhere.
Probably to my detriment, I've just never been interested in sharing authorship of the site beyond the occasional guest post. Most of the time, I felt I could do it alone and took pride in that. Now, with the proliferation of other Dodger sites, it feels kind of pointless. Bob Timmermann, who guest-hosted last week while I was on a family vacation and absolutely kicked butt in doing so, is probably the one person I would be comfortable sharing the reins with, but it remains for me an existential question of "Why?" Bob, after all, has his own outlets where he can (and does) write about the Dodgers and other subjects any time he wants.
I definitely miss the Toaster-era heyday of Dodger Thoughts. I was not very good at reading the tea leaves of what would happen after Toaster was gone, though in my defense, I was in no position to turn down the money being offered. Overall, my goal is to write and write well, on more fronts than I can count, amid the ongoing time and financial pressure I face with work and family. It might be years before I solve that juggling act, so I do try to focus on the positives of the occasional decent post I do. Oh, and the fact that my family is amazing.
The Dodgers remain a remarkably interesting team to write about – an epic story with unreal characters in a level of disarray comparable to what we're seeing this season with Don Draper and "Mad Men." But they're not the only story out there that I want to write about, and it does kind of kill me that I don't have the bandwidth, as people say these days, to tackle those other stories. Someday!
It's probably worth mentioning at this point that the thing that inspired this conversation – Dodgers vs. Yankees, 4 p.m. Pacific – is an event I'll see almost none of. Will you be out at either of the games?
AB: I never saw it as a detriment that you didn't have other writers, though I'm sure it made it more taxing on you. I always took the banter part of Bronx Banter seriously in that I liked a conversation, enjoyed different perspectives and opinions. Like I said, I've never thought of myself as an expert in anything. I think of myself more of an enthusiast. But people have their own busy lives and for various reasons most of the contributors have moved on. And that's cool, too. I've been pleased to let the Banter evolve as it needs to. And at this point doing it is like breathing, it's just part of life for me. You know that Woody Allen quote about 80% of success is just showing up? That's what the blog means for me, it gives me a purpose to commit to something, which had been a problem for me before that.
Funny how the Toaster days were a little glory period in a way, all those cool blogs and voices under the same umbrella. I appreciated it at the time and appreciate it even more now.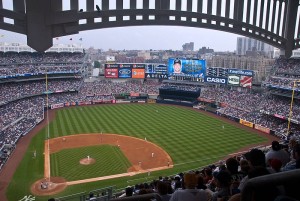 I'm not going to any of the games but will be watching, of course. The Yanks struggled to score runs in Oakland and Anaheim this past week so I'm hoping being home helps. That short right field porch should look inviting to the Dodgers' hitters, too.
JW: Well, the atmosphere tonight should be fairly electric, relative to the fact that one of the teams is 10 games below .500. Puig goes to right field, so he might be the best bet to take advantage – though it's interesting, even with all his hitting, he hasn't had an extra-base knock since June 7. Heaven knows who will DH for the Dodgers – it could be Hanley Ramirez, or someone you never heard of like Alex Castellanos.
It will be fun to have Hyun-jin Ryu on the mound – he has been one of the few bright spots this year. And then we'll have our reunion with Kuroda, the definition of what Vin Scully would call an "old friend." (Unfortunately, Vin himself won't be there.)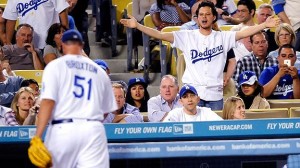 I feel like I'm failing to find perspective on this first-in-a-generation visit to Yankee Stadium, though. Maybe it's not to be found. The Yankees and Dodgers have played each other, after all – including some real barnburners at Dodger Stadium. There was that Sunday game several years ago that we all wrote about at Toaster. And the game more recently, where Joe Torre seemed to essentially destroy Jonathan Broxton. But you think of all the great Dodgers and Yankees that didn't match up against each other on the field – including Mattingly – and somehow it seems wrong. There should have been a World Series between the two teams sometime in the past three decades, right?
Still, maybe that allows me to retain the memory of Ken Landreaux caressing that final out in '81. I was nearly 14, watching my team win the title for the first time. I didn't know how rare that moment would be.
AB: With an emphasis on fairly. Yankee fans can be apathetic even during times of great success – like in the early 60s when the Mets outdrew them each year. And we bust Dodger fans' chops for leaving early but are collectively as guilty of front-running. Yankee fans seem especially uninterested this season in relation to recent years. I'm sure there will be plenty of Dodger fans there and a two-game series does spike the curiosity factor. Everyone will be happy to see Mattingly. No Vin does spoil it some.
The sight of those two uniforms will be appeal and even a little jarring but at this pernt, I'm just looking for a couple of wins and I don't really care who they come against.
JW: Yeah, that's kind of true. Forget the pomp and circumstance: The Dodgers just need the Ws. And away we go …
AB: So in conclusion and with all due respect, kiss my ass.
JW: Oh, it is on …