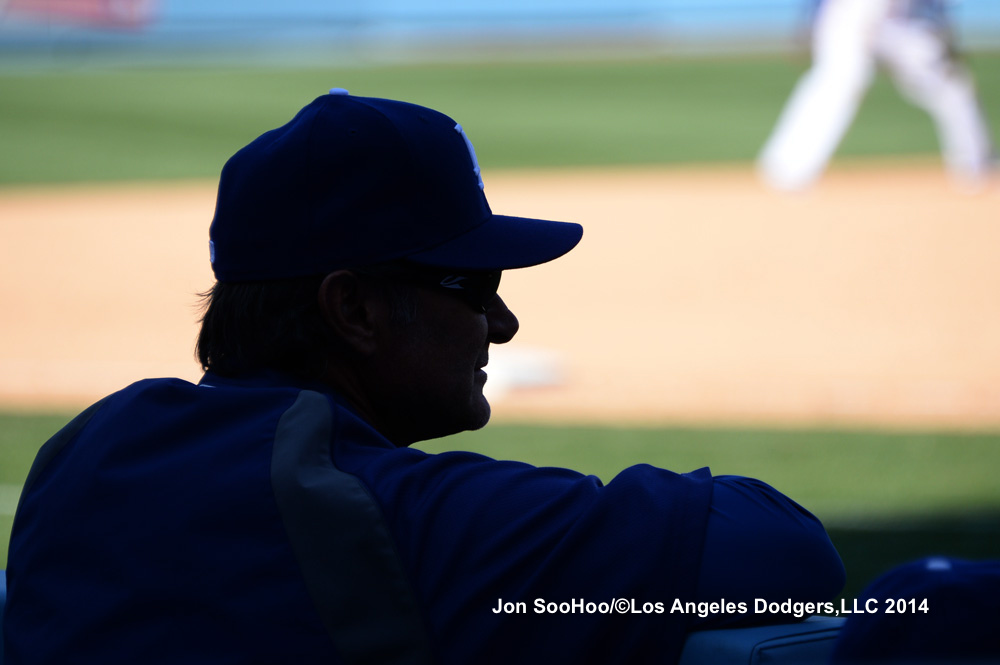 By Jon Weisman
Another deficit, another comeback attempt thwarted by a close play — in this case, A.J. Ellis removed by an inch at home plate from becoming the Dodgers' third run in what ended up Saturday's 7-2 loss to San Francisco (recapped by Ken Gurnick of MLB.com).
[mlbvideo id="31852473″ width="400″ height="224″ /]
In the past two games, Don Mattingly has used 10 relievers, who have combined to allow only two runs over 11 2/3 innings while striking out 14. But the Dodgers have been victimized by big innings — six runs in the first on Friday, four in the fifth on Saturday.
Paul Maholm was hanging with Madison Bumgarner until he faced Pablo Sandoval with two runners on in that fifth inning. With Jose Dominguez warming up in the bullpen, Maholm gave up a three-run home run. As if to illustrate the rock and hard place Mattingly arguably found himself between, Dominguez then entered the game and immediately gave up a home run to Buster Posey.
Maholm told Eric Stephen of True Blue L.A. that the pitch to Sandoval was "a cutter that didn't cut."
Yasiel Puig didn't come out for a relief outfielder, even though he injured his thumb on a head-first slide to first base. Still, the injury was enough for the Dodgers to have it X-rayed. There was no immediate word that Puig would have to miss a start, though he could obviously be the fourth outfielder tonight for the Dodgers when Zack Greinke challenges Matt Cain in a fine Sunday Night Baseball matchup.
Later, Brian Wilson was back on a mound, throwing a perfect inning with one strikeout for Rancho Cucamonga.
* * *
Jon SooHoo's Saturday photos can be found at the LA Photog Blog.