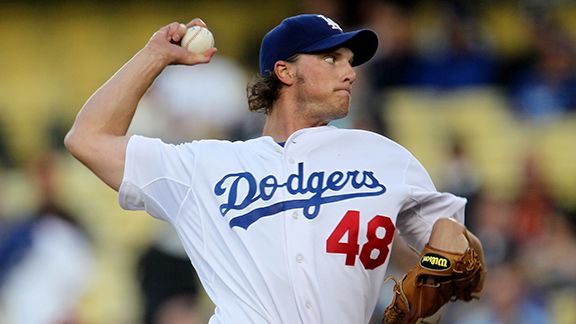 Stephen Dunn/Getty Images
"The Dodgers are going to have to take an ad to get a run for him," Vin Scully commented after John Ely's seven innings of shutout ball left him with a no-decision.
And so we've found the kryptonite for John Ely – the Dodger offense. With his seven innings of two-hit, two-walk shutout ball tonight, Ely has allowed one run on 10 baserunners over 14 1/3 innings – a 0.63 ERA – but in that time, the Dodgers haven't scored for him.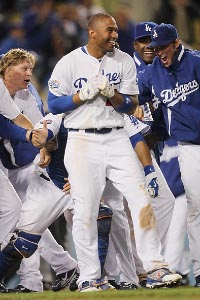 Stephen Dunn/Getty Images
Matt Kemp: Glory be.
They did score for Jeff Weaver, however. With one out in the bottom of the 10th inning of a scoreless tie, Matt Kemp hit a hanging fastball hard, deep and winningly. His blast to the left-field bleachers off Juan Guiterrez gave the Dodgers a slightly more conventional walkoff victory, 1-0 over Arizona.
With walkoff wag Andre Ethier on deck, Kemp tied his outfield colleague with his 11th homer of the year and moved the Dodgers within a game of San Diego for the best record in the National League. It was the first 1-0 extra inning victory since Russell Martin hit that game-winning homer against the Giants on August 13, 2006, according to Eric Stephen of True Blue L.A. For the year, the Dodgers are now 2-2 in 1-0 games.
Kemp stole the spotlight from Ely, but the wunderkind pitcher still glows.
Ely took a no-hitter into the fifth inning before a Rusty Ryal single got past a somewhat immobile Casey Blake. To be honest, that wasn't the first hard-hit ball off Ely – on MLB Gameday, the "Away Outs" portion of the hit chart in the bottom left-hand corner shows five balls caught at the warning track or deeper. But that doesn't mean Ely wasn't mesmerizing. At one stretch, he threw first-pitch strikes to 11 consecutive batters.
Ely even mesmerized Russell Martin, who committed a passed ball on what would have been an inning-ending strikeout in the top of the seventh but instead allowed Arizona to put Ely in some of his biggest jeopardy of the night – runners at first and second. (Martin also committed a throwing error after an Ely wild pitch that allowed Ryal to reach third base in the fifth.) But two pitches later, LaRoche practically mimicked the James Loney blunder of Monday's game – actually did worse, considering how many outs there were – by getting himself thrown out by Martin trying to advance on another ball in the dirt.
That, as it turned out, was the last we'd see of Ely tonight. With a runner on first base and one out, Joe Torre decided to have Garret Anderson pinch-hit for Ely, who had thrown 92 pitches, in what I commented at the time was not exactly going to be a popular decision. Anderson then did himself no favors by hitting into a routine 4-6-3 double play.
Ely went to the showers with his ERA lowered to 2.54 and his sixth consecutive quality start in which he allowed no more than two runs. (The six straight quality starts are the most by a Dodger rookie since Hideo Nomo in 1995, according to the Dodger press notes.) Ely struck out five, and his K/BB ratio actually declined to 4.63. Interestingly, he's getting close to having enough innings to qualify for the National League ERA race, and even more interestingly, it's kind of relevant. As of now, Ely is 12th in the league in ERA among pitchers with at least 40 innings and third in K/BB.
"The Dodgers are going to have to take an ad to get a run for him," Vin Scully commented.
Dodger fans who were doubly disappointed by the Anderson-for-Ely exchange might have felt that disappointment redouble when Ronald Belisario gave up a leadoff single in the eighth, and, after a Chris Snyder bunt, Dan Haren was left in the game to bat. The explanation: Haren was 14 for 34 (.412) this season, plus Arizona's bullpen is notoriously poor. But Haren flied out, and Hong-Chih Kuo came in to get Kelly Johnson to ground out.
Haren, who had an 8.68 ERA over his past three starts, continued through the eighth inning. Ethier got his first hit since coming off the disabled list, meaning that for the third time in three weeks, Manny Ramirez would bat in a potential game-winning situation in the eighth inning against a tiring Arizona starter. Ramirez hit a grand slam off Edwin Jackson on May 12, then struck out with the score tied 4-4 Monday against Rodrigo Lopez. Tonight, Haren just missed striking out Ramirez on his 125th pitch, and then on his career-high 126th pitch, Ramirez popped to center field. Amid chatter that Haren might be left in for infinity and beyond, he instead ended his night with eight shutout innings, allowing seven hits and striking out seven while walking nada.
Neither team scored in the ninth, despite two-out hits by Martin and Jamey Carroll, and so the Dodgers and Arizona took their scoreless game to extra innings. Weaver allowed a hit in an otherwise harmless top of the 10th, and then one out after Rafael Furcal lined to short, Kemp made Ely the valued best supporting actor in a victory.
* * *
Sour note: James McDonald's hamstring injury is significant, writes Tony Jackson of ESPNLosAngeles.
… McDonald is presently on the seven-day DL and is at the Dodgers' spring-training facility in Glendale, Ariz., where he is throwing off flat ground. But he isn't expected to return to pitching competitively anytime soon.

"It's a significant strain," Dodgers trainer Stan Conte said. "It's not a small one. We call it a Grade 2 out of a possible three. We'll just have to see how long it takes. We don't believe it's a matter of days. It's longer than that."