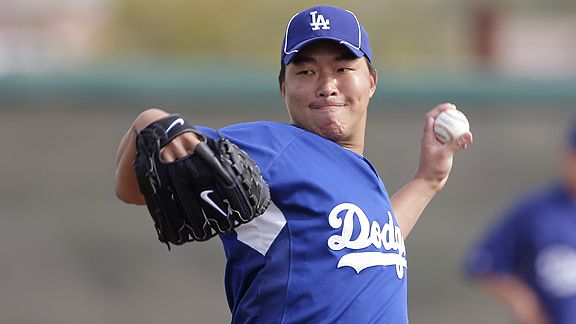 Mark Duncan/AP
Hong-Chih Kuo, shown here March 2, last pitched in a game for the Dodgers on March 19.
Another spot in the bullpen is on the verge of opening with the news from Dodger manager Joe Torre that reliever Hong-Chih Kuo has been shut down and likely will be on the disabled list when Opening Day comes, according to Tony Jackson of ESPNLosAngeles.com.
With Ronald Belisario AWOL, that leaves a core of four starters (Chad Billingsley, Clayton Kershaw, Hiroki Kuroda and Vicente Padilla) and three relievers (Jonathan Broxton, George Sherrill, Ramon Troncoso) and either four or five open spots on the pitching staff. If nothing else, Carlos Monasterios is pretty much a lock at this point to make the team.
* * *
Russell Martin will rest Saturday after a busy Friday in which he caught six innings, batted six times and scored from first on a double (in a minor-league game).
* * *
Giants pitcherum Tim Lincecum is also playing catchup, writes Chris Haft of MLB.com.
… Lincecum allowed only one run in four innings in the Giants' 5-3 Cactus League victory over the Los Angeles Angels on Friday, but allowed six hits and walked two — though he did strike out seven.

The Giants ace said afterward that he's "85 percent sure with my body of what I'm doing out there and confidence-wise. Hopefully that last tuneup job will help." He admitted that he's progressing "a little slower than I wanted to."

Lincecum's final exhibition outing before he starts the April 5 regular-season opener at Houston won't be a high-profile appearance. Though his next scheduled turn would arrive next Wednesday, when the Giants play their Cactus League finale against the Los Angeles Dodgers, he's virtually certain to pitch a Minor League exhibition or intrasquad game instead.

This would serve a dual purpose. It would prevent the Dodgers from getting a studied look at Lincecum before the regular season, and it would enable the two-time National League Cy Young Award winner to address his pitching flaws in a relaxed atmosphere. …
* * *
On weekends, my 5-year-old son sleeps in a sleeping bag on the floor of my 7-year-old daughter's room. Tonight, my daughter wanted to switch. Because of the way they were behaving before bedtime, I declined her request.
Later, my daughter went up to my son:
D: "I envy you."
S: "What does that spell?"
D: "I envy you."
S: "WHAT DOES THAT SPELL?!"