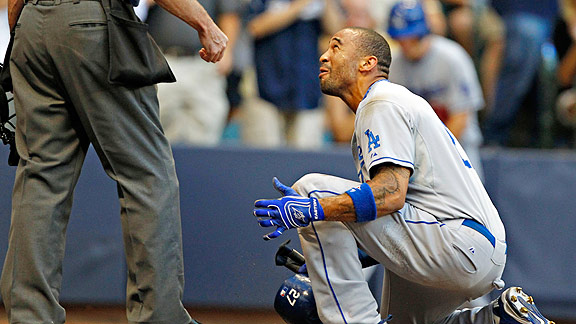 Jeffrey Phelps/APMatt Kemp pleads for mercy.
There's probably no correlation between being on the wrong side of a triple play and being on the wrong side of the pennant race. But poetry doesn't fret over correlations.
And so you had the Dodgers reentering the world of competitive baseball after that three-day break against Houston, and before the sun set finding themselves poetically on the wrong side of a triple play. On top of that – and this is what lifts tonight's reading above mere doggerel – you had the Dodgers knocking out a full stanza of double plays, four in all, coda-ized by a game-ending line-drive twin-killing off the bat of Juan Rivera, closing the book on a 3-0 Dodger loss to Milwaukee.
Consider the night Matt Kemp had – ruled out at home to complete the triple play in the second inning, lining into a double play to end the fourth inning and finally helpless when Rivera's drive went right to Prince Fielder's glove to end the ninth. Consider that the man who started tonight's triple play, Josh Wilson, started the last triple play against the Dodgers two years ago. Consider that when baseball witnessed its first 4-6-3-2 triple play since 1973 (see here), the on-deck hitter was Dioner Navarro, who five years ago started and finished baseball's first 2-6-2 triple play ever.
And seriously, I hazard that if Vin Scully were broadcasting tonight, he would have said he had not seen anything like he had seen tonight, when the Dodgers' first five innings went like this: double play, triple play, runner (Dioner Navarro) thrown out at home, double play, double play. Overall, Los Angeles had 12 baserunners tonight, and seven of them were eliminated on the basepaths.
But honestly, it wouldn't have been a 2011 Dodger game if they hadn't teased the possibility of winning despite it all. The Dodgers trailed only 1-0, thanks to the requisite home run allowed by an otherwise slammin' Ted Lilly (his 26th), when they avoided the double play and loaded the bases in the top of the seventh inning. But Navarro flied out, and an inning later, the bullpen suffered a lapse that has been relatively rare of late, with Scott Elbert and Mike MacDougal each allowing another solo homer.
You can't say it wasn't entertaining. Let's face it: This game was like a Far Side cartoon.