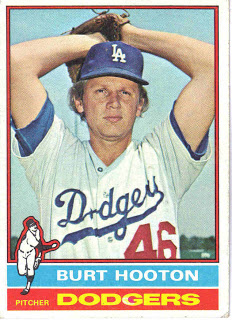 … (Chan Ho) Park made one more appearance before the Dodgers shipped him to Double-A San Antonio. There he met Burt Hooton, a pitching instructor and former Dodgers starter.
"Burt Hooton was my best friend my first two years," said Park, who spent most of the 1995 season at Triple-A Albuquerque before breaking through with the Dodgers in '96. "He was like an uncle to me. He cared about me, my emotions, while he was helping me learn techniques.
"One thing I told Ryu was that meeting good people is very important. I told him to try to make his pitching coach his best friend. When I got my first Major League win, I called Burt Hooton before I even called my parents. That's how important he was to me." …

— Ken Gurnick, MLB.com
When I ranked the top 50 Dodgers of all time a year ago for ESPNLosAngeles, Burt Hooton was 29th. But generally, you don't hear much about him when the pantheon of great Dodgers is discussed.  Nice to see his name brought back to life, particularly in this extra, nurturing dimension.
Hooton gave the Dodgers 10 years of a 3.14 ERA and though he's often thought of as a postseason goat thanks to one outing in Philadelphia, recovered to have a 2.79 ERA in his 10 other Dodger playoff games, including a remarkable 0.82 ERA over five 1981 postseason starts. (He was the Most Valuable Player of the 1981 National League Championship Series, pitching 14 2/3 shutout innings.) That's some big stuff that no one ever talks about.
He managed to do this despite averaging five strikeouts per nine innings, a rate that would almost assuredly signify failure in this era. Opponents had a .659 OPS against Hooton over his 15-year career. Since 1972, Hooton has the eighth-best opponent OPS+ among all Dodger pitchers (minimum 600 innings).
Footnote: Hooton is a member of the College Baseball Hall of Fame and was named the No. 4 college baseball player of the 20th century by Baseball America. Here is his induction speech …