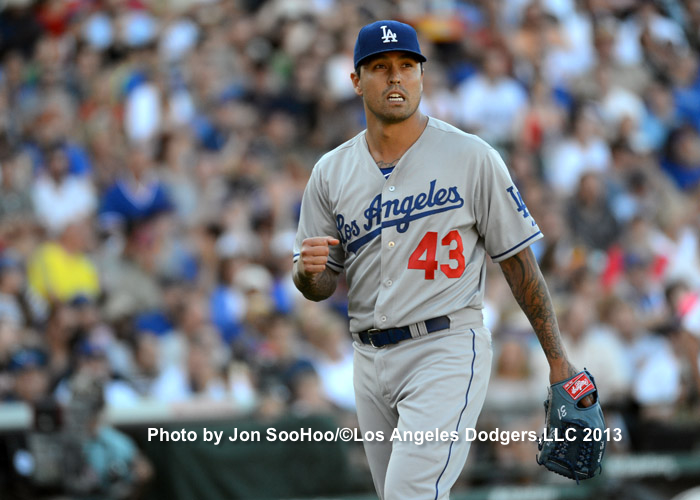 It's hard to overstate the importance that Hanley Ramirez and Yasiel Puig have had in the Dodgers' turnaround from a 30-42 to a 30-7 team. They have had an enormous impact on an offense that otherwise has not performed much better in the second 54 games of 2013 than it did in the first 54.
A.J. Ellis, Adrian Gonzalez, Mark Ellis, Juan Uribe, Carl Crawford, Scott Van Slyke, Nick Punto and Jerry Hairston Jr. – five starters and three key bench players – all had lower OPSes in the middle third of the season, when the Dodgers went 36-18, than at the outset, according to Eric Stephen of True Blue L.A.
The starting pitching has been steady as she goes during the hot streak, with everyone – including, of late, Chris Capuano – keeping the Dodgers in games. In addition, the team has been better hitting with runners in scoring position, some recent events in Chicago notwithstanding.
But when you look at how the Dodgers have been playing .811 ball since June 22, winning games like they were free throws, much of it comes down to this – the bullpen simply just keeps getting guys out.
Perhaps no moment epitomized that more than when the Dodgers inserted Brandon League, simply horrible for much of this season, into the seventh inning of Saturday's game with Cubs at the corners and the tying run at the plate.
Since entering the All-Star break with a 6.25 ERA, League hadn't allowed an earned run or an inherited run in eight innings over six appearances, with opponents OPSing a scant .343. Don Mattingly had slowly moved League out of mop-up situations into higher-leverage moments, but this was the first time League had been used to protect a lead of three runs or less in nearly seven weeks since June 25.
League threw four pitches, induced the Dodgers' fourth double play of the game, and strolled off the field.
In the next inning, Ronald Belisario gave up two singles to the four batters he raced – a relatively shocking development for a bullpen that has been so reliable – and then making matters worse, Paco Rodriguez came in and threw six straight pitches out of the strike zone, loading the bases with a 2-0 count to the go-ahead run, Chicago's cleanup hitter, Welington Castillo (admittedly, not your prototypical cleanup hitter).
Rodriguez got the count back to 3-2, then struck Castillo out.
If teams don't score against you, they're not going to beat you. The Dodger bullpen has smothered nearly every single fire they have encountered since the fourth week of June.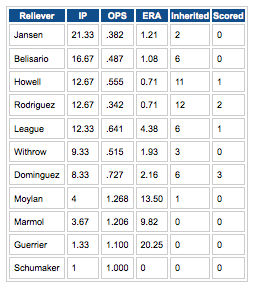 Keep in mind the bottom four guys are not really relevant to the conversation, having mainly pitched in the rare garbage situations the Dodgers have been in since June 22. The four primary relievers (five if you count Withrow) have ERAs below 2.00, opponents' OPS below .600 and have stranded 31 of 34 inherited runners. Thrown in a temporarily improved League as a bonus, and that's a hellacious bullpen that could also find addition by subtraction if Carlos Marmol is jettisoned for someone more reliable, unless Marmol follows in League's footsteps.
Can they keep this up? Well, no. Not bloody likely. Relievers don't stay hot forever, particularly guys who are proven inconsistents like Belisario. The question is whether it will be a blown save here or there, or the more frequent meltdowns of the season's first 72 games.
There's also concern over how many games some of the relievers have been appearing in – especially Kenley Jansen. But the good news is that Jansen has been so efficient lately – he has retired 22 consecutive batters with 10 strikeouts – they've essentially been low-stress outings. Here are Jansen's daily pitch counts since June 22 …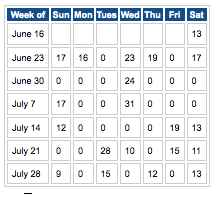 There was an eyebrow-raising stretch the week of June 23 and another following a 28-pitch outing July 23, but for the most part, Jansen has kept his pitch counts in check and had a nice checkerboard of days off.
Of course, the fastest way for the closer to get rest is for the Dodgers to start losing again. Otherwise, yeah, there will be a day when the Dodgers are in a tight one and they'll want to try to get by without using their big ex-catcher.
The Dodgers' surge has been too good to be true, but there's no denying it has happened. Whether you should believe it can continue should depend in large part in your belief in this bullpen.