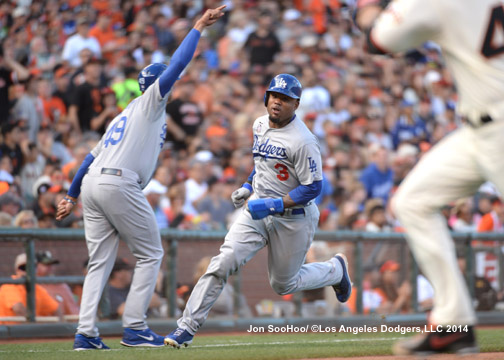 For more Jon SooHoo highlights from Sunday's game, visit the LA Photog Blog.
By Jon Weisman

The Dodgers swept the Giants this weekend — scoring 17 runs in three games with five doubles and five triples — but without hitting a single home run, and they remain stuck on eight homers in 21 games in July. Which leaves us with the following oddity:
March/April: 27 homers, 15 wins
May: 30 homers, 15 wins
June: 13 homers, 18 wins
July: eight homers, 11 wins
Not only have the Dodgers hit only 21 homers while going 29-20 in June-July, they've allowed 38. Nevertheless, Los Angeles has outscored opponents, 195-157.
How odd is that June-July run? I can't say the last time it happened over a two-month stretch, but for a full season, the Dodgers haven't had more wins than home runs since 1976, when they won 92 games on 91 home runs.
For all of 2014, the Dodgers have 59 wins on 78 home runs.
Dodger home runs in July: Scott Van Slyke (3), Adrian Gonzalez (2), Yasiel Puig, Miguel Rojas, Juan Uribe.