[milbvideo id="35620131″ width="550″ height="308″ /]
By Jon Weisman
Joc Pederson is being celebrated for becoming the first Pacific Coast League player in 80 years and first Dodger farmhand since Chin-Feng Chen in 1999 to reach 30 homers and 30 steals in the same season. But wait, there's more.
Pederson, who was named a PCL All-Star today, is close to wrapping up another statistical feat: the 1.000-OPS season.
It's not as rare as 30-30, though it's still fairly uncommon. It has happened only 20 times among Dodger Triple-A players since 1988, and only once in that period with a player who came to the plate more than 500 times.
Dodgers with 1.000+ OPS in the PCL, 1988-2014 (minimum 200 PA)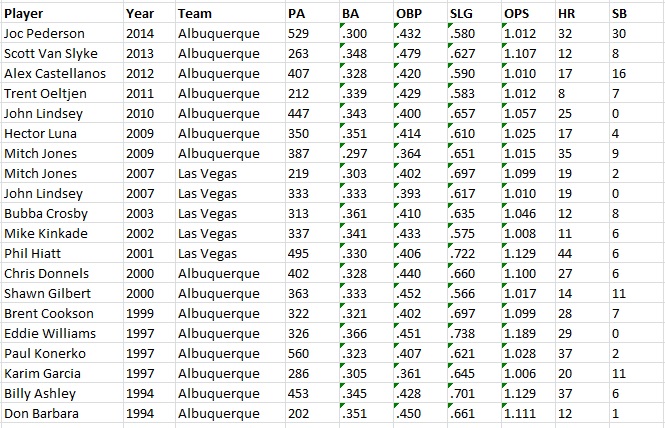 That player was Paul Konerko, who is also the only one on the list to have had a significant Major League career. It is the PCL's cross to bear that its gaudy offensive statistics hold up like fool's gold.
And yet, Dodger Rookie of the Year award-winners Eric Karros (.943), Mike Piazza (.969), Raul Mondesi (.758) and Todd Hollandsworth (.822) never made it to 1.000 in the PCL.