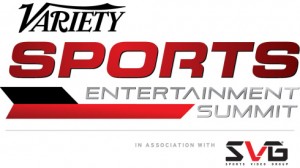 Variety (in association with Sports Video Group) will be hosting its third annual Sports Entertainment Summit on August 15, all day long at the Four Seasons in Beverly Hills.
It's a great event with tons of behind-the-scenes information passed along about the present and future of sports in the media world — particularly television — and also a tremendous networking opportunity.
Among the top participants are:
• Dodgers executive vice president and chief marketing officer Lon Rosen
• Kings Hall of Famer Luc Robataille
• Clippers forward Matt Barnes
• Fox Sports Media Group COO and co-president Randy Freer
• NBC Olympics executive producer Jim Bell
• Time Warner Cable Sports senior vice president and general manager Mark Shuken
I'll be moderating three sessions:
10:15 a.m.: The Future of the Sports and Entertainment Business
12 noon: The Power of the Regional Channel – Industry is Cheering, Are Audiences?
4:45 p.m.: Keynote Conversation with Luc Robitaille, president of business operations and alternate governor, Los Angeles Kings
Other sessions include:
9:45 a.m.: Keynote Conversation with Randy Freer, COO and co-president, Fox Sports Media Group
11:15 a.m.: Can We Score with TV Everywhere and Sports Programming?
1:45 p.m.: Beyond the Game Programming Technology – Companion Mobile, Online Experiences
2:30 p.m.: Masters of Game-Time Storytelling
3 p.m.: Branding the Athlete – Winning in a Jungle of Social, Entertainment and Endorsement Choice
4 p.m.: What is the Next Major? Sports on the Rise
The full agenda can be found here. Registration can be done online here. Until 11:59 p.m. Friday, you can get $100 off the $595 cost.
If you can't make it, look for coverage of the event on Variety.com on August 15.