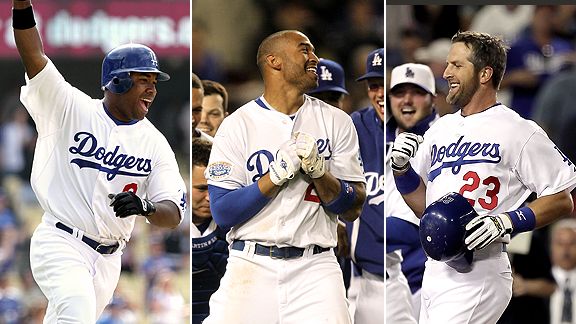 Getty Images
Celebrate, celebrate, celebrate
But for a blown save on an 0-2 pitch with two out in the ninth inning by Mets closer Francisco Rodriguez at San Diego on Wednesday, the Dodgers would have completed their journey from being in a tie for the worst record in the National League on April 29 to being in a tie for the best today.
Exactly four weeks ago, Dodger fans wondered, "What next?" But it turned out that Murphy's Law had not become the law of the land – and moreover, the Dodgers showed they could overcome the adversity that remained. This team had a good side after all, and now sits at 31-22, one game from the top of the NL.
Since starting the season 8-14, Los Angeles has gone 23-8. The Dodgers reach the one-third point of the 2010 season tonight on a 95-win pace – exactly the number of games they won last season. And while they had to survive the 50-game suspension of Manny Ramirez and ongoing traumas to Hiroki Kuroda in 2009, this season has been no picnic.
Ramirez, Rafael Furcal and Andre Ethier have been out of the starting lineup a combined 73 times this season, either for injuries or attempts to avoid them, while 2009 postseason stalwart Vicente Padilla has been sidelined since April 22 and four key relievers have been on the suspended, disabled or just plain awful list: Ronald Belisario, Hong-Chih Kuo, Jeff Weaver and George Sherrill.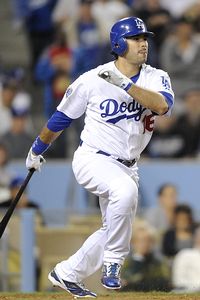 Gus Ruelas/APAndre Ethier goes 1 for 14 as the Dodgers win three in a row: good omen or bad?
Things haven't stopped going wrong for the Dodgers – if you needed any more evidence of that, two runs in their past 24 innings against last-place Arizona should suffice. The Dodgers were crazy close to being swept by the Diamondbacks, which would have meant seven losses in their past 10 games, which would have meant another round of Angst Blue Ribbon being passed around the dorm.
Even having avoided that unhappy storm, the Dodgers head into a scheduling tsunami starting this evening. Their opponent for the next four games, Atlanta, has rather amazingly duplicated the Dodgers' 8-14/23-8 split to take over the NL East lead. This series starts a stretch of 25 games in the remaining 28 days of June for Los Angeles, with the worst opponent in that time being the American League's 27-28 Angels. Sixteen games this month come against teams on pace to win at least 90 games – the Braves, Cardinals, Reds, Red Sox and Yankees – with the stretch then capped by an out-for-blood rendezvous at San Francisco, playing .633 ball at home.
By July 1, all the doubting and even a good chunk of the loathing from April might return to Chavez Ravine. And no matter how resourceful the Dodgers are, they might find it nearly impossible not to fall farther behind the endlessly underestimated Padres, who get 10 games against the Phillies, Blue Jays and Rays this month but overall have an easier go of it. The Dodgers came within a strike of first place in the NL West on Wednesday; it could be weeks before they're that close again.
Or not. Because after all, as opposed to a month ago, now the 2010 Dodgers have something more than hope. They now have, if nothing else, an established record of success.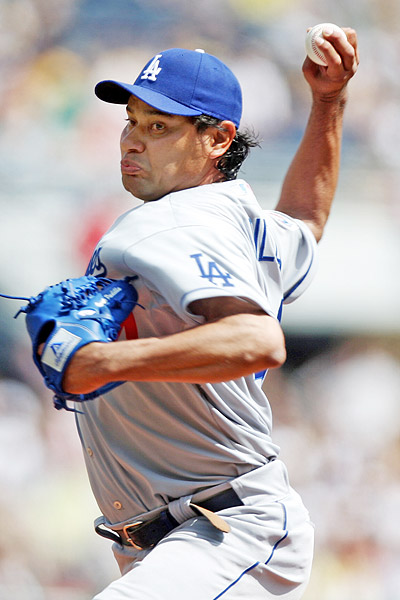 Jason Bridge/US PresswireThe pending return of Vicente Padilla by the end of June could be an injection if not a distraction.
Even without Padilla – some might say especially without him – the Dodgers' starting rotation of Kuroda, Clayton Kershaw, Chad Billingsley, John Ely and Carlos Monasterios has a combined ERA of 3.08 for the season. Furthermore, all but Monasterios are now regularly pitching six innings or more, putting the Dodgers in position to take advantage of a bullpen that has begun to match last year's excellence. These guys won't shut down the opposition each time out. They'll ebb and flow – Kuroda, the hero of April, is struggling more of late, while Billingsley's recovery Monday showed signs of a warrior – but in any case, they've passed enough tests to inspire confidence. The worst-case scenarios are no longer the only ones anyone can see.
For the time being, the offense has emerged as the greater concern, averaging 2.8 runs in the past 10 games – not exactly Phillies-level slumpage, but poor enough. Still, Dodger fans know the team is capable of better – the 68 runs in the first 10 games of the season, for example, a spiritual facsimile of the 31 consecutive scoreless innings the pitching has just thrown.
In a significant way, the 31-22 Dodgers are in the exact same position the 8-14 Dodgers were in four weeks ago: capable of brilliance, dilapidation and everything in between. At the end of this month, Dodger fans will combine another 25 equations of whether the good outweighed the bad on each and every given day, but right now, not one person can say how it will go. The Dodgers won their past three games thanks to an inexplicable double error and a balk, a seven-inning two-hitter from a guy no one cared about a blink ago, and four innings of shutout relief from their 19th pitcher of the season combined with a by-inches single from a .146 hitter. They won a three-game series with four RBI. That's as great as it is scary for a team trying to win it all. How do you tell the future from tea leaves so mischievous?
As we move toward the season's second trimester, perhaps the most salient thought is this. Every single team has its worries, its injuries, its Garret Andersons and George Sherrills, yes, even its hurdles to making a midseason trade. Yes, every single one of them. The Dodgers might have more than some, but not too many yet. A month ago, Dodger fans had reason to doubt whether they'd ever make it into the 2010 pennant race. One thing they can say now: They're in it.