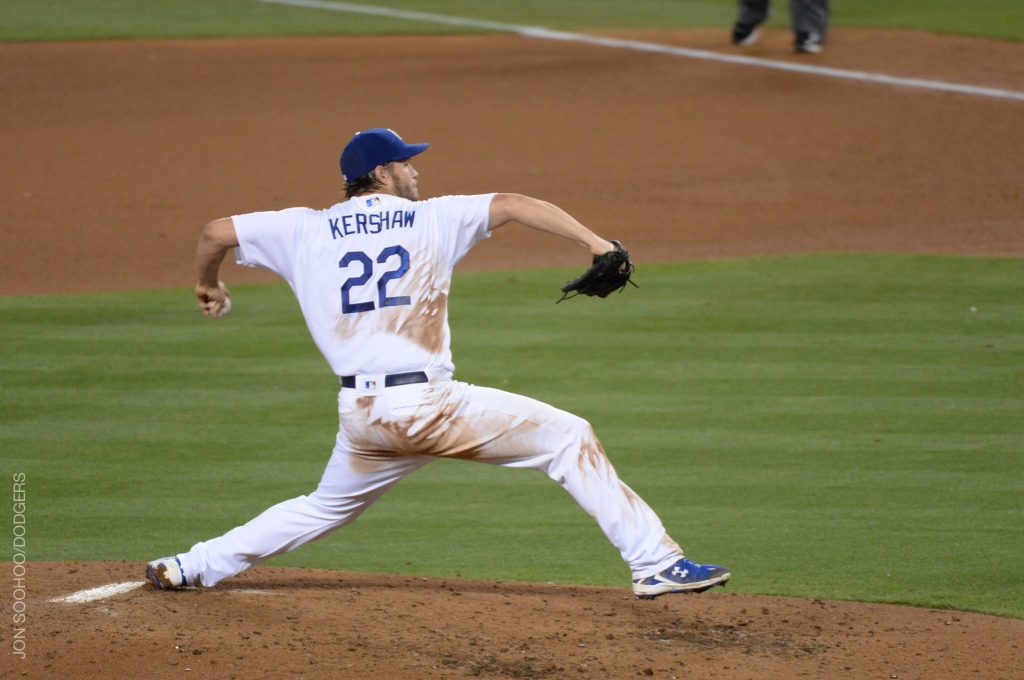 By Jon Weisman
Clayton Kershaw gets dirty.
That's the thing. He's so precious, that you want to protect him like a porcelain … well, like a porcelain Kershaw.
But Clayton Kershaw must think he's Nerf or something. He leaps, he dives — he barrel-rolls if that's what it takes.
Tonight, in the third inning, Kershaw singled. And then Chase Utley singled, and Kershaw took off. While all the Dodger fans clutched their hearts for dear life, like their boy was heedlessly dashing into the street to retrieve his ball, Kershaw rounded second and careened toward third.
He slid, hard, into the base, where the baseball was waiting for him, courtesy of Mike Trout. He was out. We was scared.
[mlbvideo id="707679883″ width="550″ height="308″ /]
And then with that streak of Dodger dirt along his side and on his rump, Clayton Kershaw got up, walked back to get his glove, returned to the mound, and proceeded to finish dominating his latest Major League opponent.
In eight innings, Kershaw struck out 11 Angels and walked none, extending his unique Major League record, in a 5-1 victory by the home team at Dodger Stadium.
It was the sixth consecutive game that Kershaw had whiffed double-digits without walking more than one batter — two more games than anyone else has had. In addition, Kershaw is within one of Randy Johnson's NL record for consecutive games with at least 10 strikeouts, and two of Chris Sale's MLB record. (Pedro Martinez has the record crossing over two seasons of 10 games.)
And now, process this. For the season, Kershaw now has 88 strikeouts and still only four walks. Twenty-two strikeouts for each walk.
In his past five starts, he has 58 strikeouts. And one walk.