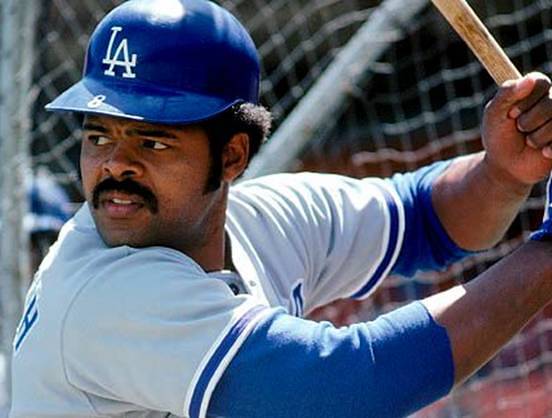 The Hall of Nearly Great, a collection of essays about memorable major-league players who weren't considered worth of the Hall of Fame, came out in 2012. I contributed the following chapter about Reggie Smith. 
As an adult, maybe even as a teenager, you see the complete arc of a major-leaguer's career. You're there for the beginning – or, depending on your level of dedication, the pre-beginning: the minors, the run-up to the draft, college or high-school ball.
But when you're a kid, you encounter ballplayers in media res. They arrive in your consciousness fully formed. Past is the opposite of prologue – past is epilogue.
Reggie Smith landed in my world in the middle of the 1976 season, the first full season that, at age 8, I became invested in the Los Angeles Dodgers as a fan. Speaking of fully formed: He joined a team that had that infield: Steve Garvey at first base, Davey Lopes at second, Bill Russell at short, Ron Cey at third. These were the people in our neighborhood.
Smith dropped in out of nowhere, by way of St. Louis. What was supposed to happen? It couldn't have been that he would become the favorite player in the lineup for a kid fan birthed on Garvey, Lopes, Russell and Cey. That he would be the gateway to a life of challenging the conventional wisdom of who was most valuable.