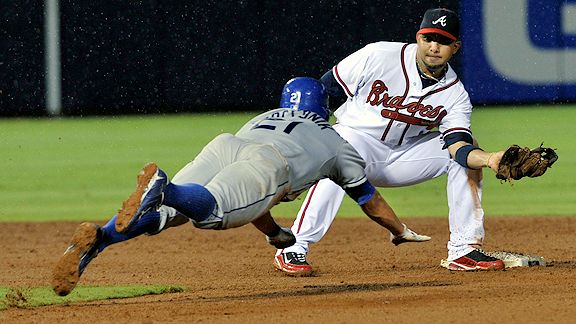 Gregory Smith/APBraves shortstop Alex Gonzalez caught the Dodgers' potential tying run, Scott Podsednik, trying to steal in the ninth inning of tonight's 1-0 Dodger loss.
The Irony Committee approves the fact that fans are giving up on the Dodgers left and right, even as they expect the Dodgers not to give up on themselves.
I'm not telling anyone to act differently. If San Francisco defeats San Diego tonight, the Dodgers will be the furthest they have been out of a playoff spot since 2007.
But there is an interesting contradiction from those who have pulled out the white flag: "Believe in yourselves, even though we don't believe in you." I get why it is, but it's a little funny.
Anyway, I'm not someone who declares the season over before it's factually over. Each win increases your chances, each loss decreases it. It's that simple. It's all by degrees, until you run out of them. A season doesn't end in one game. The Dodgers suffered a painful defeat Thursday, but that didn't flip an "on" switch to "off," it made their fragile candle grow even dimmer.
A win tonight would have allowed them to gain a game on somebody, and keep their wan flame steady for one more day. A win tonight would have put the Thursday agony further behind them. Thanks to Brooks Conrad's cursed homer to center off an otherwise saintly Hiroki Kuroda, and the Dodgers' 14th offensive shutout of the year, it didn't happen.
And the light remains on but grows darker still.
If the Dodgers want to start making moves with 2011 in mind, I don't mind – though their chances of trading Casey Blake to the Braves to fill the Chipper Jones gap didn't get any better with Jones' current understudy winning tonight's game. If the Dodgers find they can play "Flip This Lilly," then by all means go for it.
And if the Dodgers want to ride the 2010 wave as far as it will take them, even if it leaves them shy of the promised land, I will ride it with them until the last drop reaches its grainy end. There's plenty of time to mourn the year – I don't mind dreaming the improbable dream, even if I believe in it a lot less than 100 percent. What else have I got to do the next day of the baseball season except dream? Beats mopin'.