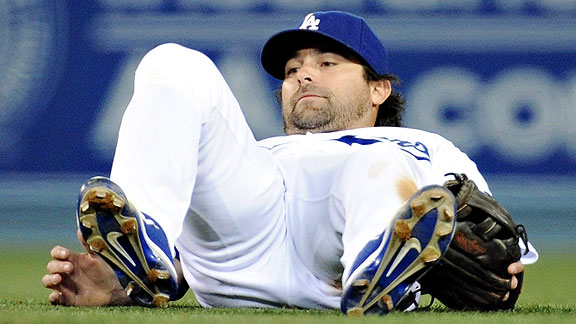 Harry How/Getty ImagesAaron Miles and the Dodgers will try to get back on their feet today
The first part of the headline is the most important: The Dodgers get Hong-Chih Kuo back after a minor-league rehab appearance Friday (his third) in which he allowed no runs or walks and struck out two. But the more curious aspect is the second part, in which the Dodgers optioned reliever Kenley Jansen to Triple-A rather than cut loose back-of-the-bullpen reliever Lance Cormier. (Update: The Dodgers later issued a correction saying that Jansen has gone down to Double-A Chattanooga.)
Jansen has had two certifiably terrible outings, one April 2, the other April 19. But in has past three games, covering 4 2/3 innings, Jansen has allowed no hits, walked two and struck out nine. That makes Jansen the Dodgers' most effective reliever over the past week.
If this small sample size were all that Jansen had going for him, that'd be one thing, but the two bad outings in April are much more of an aberration in the Jansen oeuvre than what he's done recently. Jansen's career numbers remain strong: 2.90 ERA, 49 baserunners vs. 63 strikeouts in 40 1/3 innings.
Tony Jackson of ESPNLosAngeles.com writes that the Dodgers want Jansen to develop a secondary pitch, and that the Dodgers value Cormier's role as a mop-up man, which is as damned with faint praise as you get. So what this boils down to is the Dodgers breaking more eggs in their bullpen, in the hopes that they'll bake a better cake in the long term. It's not the end of the world, but Jansen will be missed.
As long as Cormier's sticking around, can I suggest again that the Dodgers use the right-handed Cormier more against left-handed batters, a group he continues to have the most success against?
* * *