Tag: Javy Guerra
(Page 2 of 2)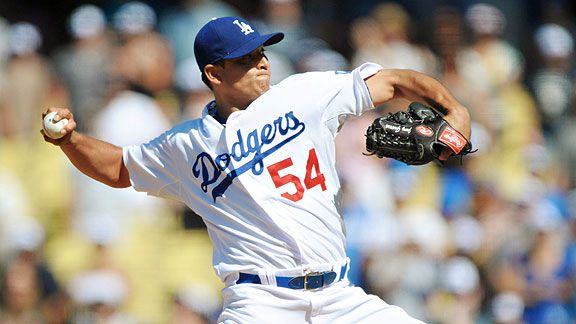 Kirby Lee/US Presswire
Javy Guerra
The setup: Guerra pitched most of 2010 at Double-A Chattanooga, finishing with a 2.33 ERA and 27 strikeouts in 27 innings, so it wasn't out of the realm of possibility that he could see some major-league action this year. But he certainly wasn't counted on to be a deluxe topping on the Dodger pizza, especially considering he walked 22 in that same period and his offseason work slowed by a deep gash in his right hand. However, the Dodger bullpen-that-was-supposed-to-be quickly fell by the wayside to visa problems and injuries. With Guerra rocking a 1.06 ERA in Chattanooga with 15 strikeouts in 17 innings and only eight hits and five walks allowed, his ticket to Los Angeles was punched.
The closeup: Five games into his major-league career, Don Mattingly turned to Guerra (after Rubby De La Rosa made his major-league debut in the eighth inning) to close a 5-4 victory over Houston on May 24. With as little fanfare as one could have imagined, Guerra remained in the traditional closer's role for the remainder of the season, and simply excelled, saving 20 games in 22 opportunities with a 2.31 ERA. His strikeouts weren't sky-high, especially for a closer – 7.3 per nine innings – and he could occasionally get in trouble, such as the July 8 game against the Padres when he loaded the bases with none out and a 1-0 lead on a double and two hit batters. But he escaped that game and for the season really was superb, soothingly so for a rattled Dodger fan base.
From June 15 through August 12, he pitched 17 1/3 innings, struck out 17, allowed one run (0.52 ERA) on a .404 opponents' OPS and stranded all five inherited baserunners. Though he usually came in at the start of an inning, he entered a July 25 game against Colorado with the bases loaded and one out, the Dodger lead having been reduced from 8-1 to 8-5, and retired Troy Tulowitzki and Seth Smith on a popout and a groundout. Only the home run he allowed in the Dodgers' September 27 collapse against Arizona, in his final game of the year, pushed his season ERA above 2. One reason for Guerra's success as a closer? He actually performed better against left-handed batters than against righties, which kept opposing managers from overwhelming him with opposite-side batters.
Coming attractions: Guerra, who turns 26 on Halloween, is the incumbent closer, a role I hope he retains even if Kenley Jansen continues to overshadow him as a strikeout god. But to hang onto the job, he will probably need to make sure his strikeout-walk ratio doesn't fall much below this year's 2.1.