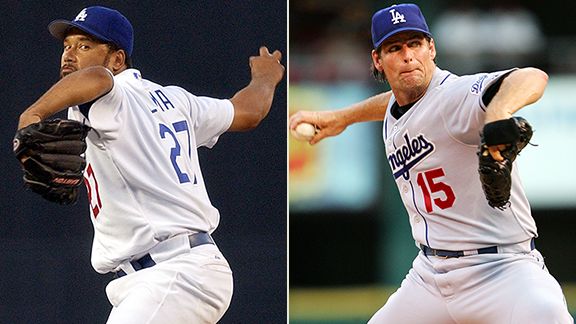 AP/Getty Images
Jose Lima fared well as a surprise starting pitcher in 2004; Scott Erickson was a Spring Training hit in 2005 (2.10 ERA) but fell out of the starting rotation before the end of May.
The chart below shows how quickly the Dodgers went beyond their first five starting pitchers, in each of the past six seasons. In parentheses next to each name is the game number of their first start that year.
No season was created equally. For example, Hiroki Kuroda was injured before his second start of 2009, meaning that the Dodgers had six starters in their first six games. Chad Billingsley was delayed in 2008 only because Joe Torre didn't want to send him out on a rainy April night. The year before, of course, was the beginning of the Jason Schmidt saga. In 2005, Elmer Dessens and Scott Erickson each got starts before Brad Penny did. Dessens, memorably, got the start in Game No. 161 of 2004.
In the past six years, the latest the Dodgers have gone to a sixth starting pitcher was their 32nd game of the season. In the past five years, the Dodgers have used eight starting pitchers before the season was half over.
It's interesting that the Dodgers used fewer starting pitchers in the woebegone 2005 campaign than they did in the next four seasons. But my favorite tidbit of this chart is that in 2006, the Dodgers didn't use a starting pitcher with more than five letters in his last name until the 66th game of the season.
Who's your favorite name from this group? Jason Johnson? Derek Thompson? Any members of the Jae Seo Marching and Chowder Society, speak up now!
| | 2009 | 2008 | 2007 | 2006 | 2005 | 2004 |
| --- | --- | --- | --- | --- | --- | --- |
| 1 | Kuroda (1) | Penny (1) | Lowe (1) | Lowe (1) | Lowe (1) | Nomo (1) |
| 2 | Wolf (2) | Lowe (2) | Wolf (2) | Penny (2) | Perez (2) | Perez (2) |
| 3 | Billingsley (3) | Kuo (3) | Schmidt (3) | Perez (3) | Weaver (3) | Weaver (3) |
| 4 | Kershaw (4) | Kuroda (4) | Penny (4) | Tomko (4) | Dessens (4) | Ishii (4) |
| 5 | McDonald (5) | Loaiza (7) | Tomko (8) | Seo (8) | Erickson (5) | Lima (11) |
| 6 | Stults (6) | Billingsley (8) | Hendrickson (16) | Sele (32) | Penny (18) | Alvarez (28) |
| 7 | Weaver (28) | Park (42) | Kuo (55) | Billingsley (66) | Alvarez (45) | Jackson (51) |
| 8 | Milton (38) | Kershaw (49) | Billingsley (73) | Hendrickson (80) | Thompson (48) | Penny (105) |
| 9 | Schmidt (103) | Stults (72) | Stults (99) | Maddux (108) | Houlton (55) | Dessens (161) |
| 10 | Haeger (119) | Johnson (106) | Wells (130) | Kuo (141) | Jackson (124) | |
| 11 | Padilla (128) | Maddux (128) | Loaiza (137) | Stults (143) | | |
| 12 | Garland (135) | | | | | |