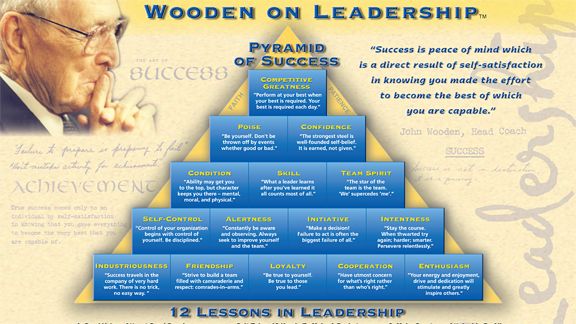 Johnwooden.com
John Wooden, who held the city of Los Angeles tightly in his grip like the rolled-up program he clutched courtside, who along with Vin Scully was one of the city's two true gentlemen, has passed away at age 99.
He was an influence on me as a child, like he was on so many others – an influence that wasn't lost as I grew older. As much as anyone else outside my family, he taught me about sportsmanship, about striving for excellence without losing your bearings. And every time you heard him speak, you were reminded. The combination of Wooden's dignity, sensitivity and acumen will never be surpassed.
Another thing he tried to teach is how to face death. I'm still struggling to learn — and today doesn't make it any easier.
When news spread Thursday that his condition was grave, I began to prepare some thoughts about him, though I left them unfinished heading into today. This afternoon, I was walking and thinking about what I had written, thinking it was all a bit too grandiose – not for him, nothing could be too grandiose for him – but for me. I didn't go to UCLA, though I grew up going to UCLA basketball games. I didn't meet him, except for getting my picture with him at basketball camp. He was a hero of mine, but he belonged to so many others even more – on a deeply personal level. I will always have what I had with him. Others won't. Think what their loss must feel like.
But still, I will miss him. I am not comfortable with the idea that someone with his life force is no longer alive. Even though Wooden would be the first, the very first, to say not to shed a tear, to say we should only celebrate the life instead of lamenting the death, I'm feeling a weakness, hearing this news. I feel him gone.
It's not so easy to let go.