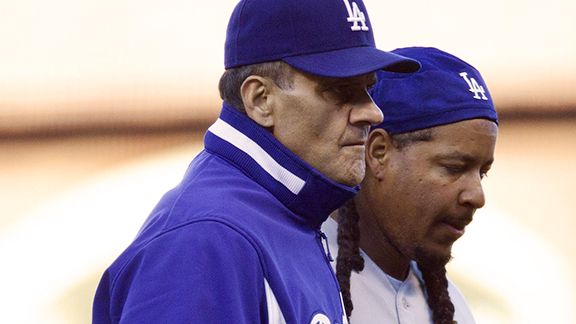 Jason O. Watson/US PresswireJoe Torre leaves the field with Manny Ramirez after the outfielder's injury.
Manny Ramirez injured his right hamstring on a freak slide (some would say that's an appropriate term) back into second base in the first inning tonight – forcing Matt Kemp into the lineup after all of today's commmotion. From The Associated Press:
Ramirez was initially listed as day to day, but there was no immediate word as to the nature or severity of the injury.

Ramirez, who had singled up the middle with two outs, went to second on a subsequent single by James Loney that scored Andre Ethier from third. But Ramirez then inexplicably rounded second base and wandered three or four feet toward third even as the throw from Giants right fielder Aubrey Huff came to shortstop Edgar Renteria, who was standing on the second base bag.

Ramirez then made a feeble attempt to get back as Renteria applied the tag, but the ball popped out of Renteria's glove as second base umpire Ron Kulpa was calling Ramirez out, causing Kulpa to change his call.
Ramirez was on the disabled list earlier this season with a calf strain in the same leg. Xavier Paul, who had a .328 on-base percentage and .404 slugging percentage when called up earlier this season, has continued his banner season with Albuquerque (.402/.633).