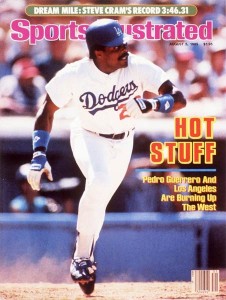 Longtime Dodger Thoughts hero Pedro Guerrero has taken a job managing the independent league Vallejo Admirals, reports Matt O'Donnell of the Vallejo Times-Herald (via Baseball Think Factory).
Two years ago, Mike Marshall worked in the Arizona Winter League in Yuma, Ariz., a destination designed for players looking to make some offseason noise.
The league brought along Pedro Guerrero, who was looking to get back into baseball as a manager or coach.
For a portion of seven seasons, Guerrero and Marshall were teammates on the Los Angeles Dodgers. The two provided a formidable middle of the order but the two hadn't kept in contact much after that time. Marshall would often ask ex-teammate Mariano Duncan, "How is Pete?"
"To be honest, I didn't expect much … or didn't know what to expect," Marshall said about the Arizona experience. "But I was very impressed with the way he handled the young players and how he'd throw batting practice every day."
When Marshall became commissioner of the Pacific Association this season, he handed Vallejo Admirals president and general manager Joe Fontana a list of names. Guerrero was one of those.
Guerrero, 56, was introduced as field manager of the Vallejo independent baseball team on Wednesday morning at the Admirals' office on Amador Street in Vallejo. He arrived in town on Sunday.
"When Joe called, I was excited; I am still excited," said Guerrero, who spent 15 seasons in the big leagues with the Dodgers and Cardinals. "It's an opportunity for me. I hope I can do a good job and make people happy around here." …