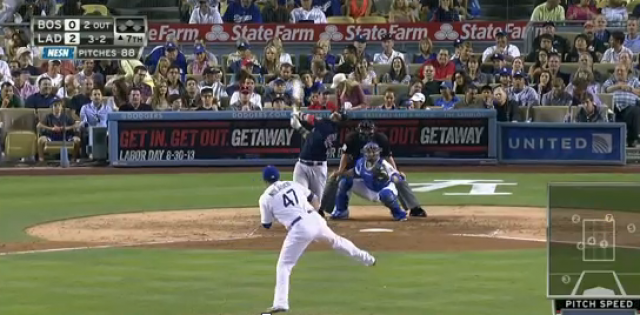 This was the Dodgers' No. 4 starter?
On a spectacular night of pitching, Ricky Nolasco absolutely stifled the Boston Red Sox, 2-0, pitching the Dodgers to their second consecutive shutout and a 10 1/2 game lead in the National League West, their biggest margin since 1977.
Nolasco matched Clayton Kershaw's Thursday performance and then some, pitching eight shutout innings on 101 pitches, allowing two hits and no walks (hitting one batter) while striking out six.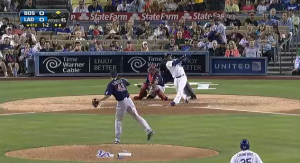 With Carl Crawford (2 for 3 with two steals) on second base, two outs and a 1-2 count, fellow ex-Bostoner Hanley Ramirez hit a towering two-run home run to center field off John Lackey in the bottom of the fifth. Lackey allowed no hits to the remaining seven Dodger starters.
In the top of the next inning, Juan Uribe got Nolasco out of his biggest jam, fielding a grounder with runners on first and second and throwing from one knee to second base to start an inning-ending double play. Nolasco followed that with three perfect innings to finish his night, and then Kenley Jansen came on to retire the side in order to wrap up the team's 46th victory in their past 56 games. The Dodgers are 29-5 since the All-Star break.
The game hadn't passed the two-hour mark when the ninth inning began and finished at 2:07, the Dodgers' fastest since July 9, 2008. Los Angeles has allowed one run in its past 30 innings.
The team ERA of the Dodgers in 34 games since the All-Star break: 2.12. The team ERA of the Dodgers in 22 games in August: 1.86.
After going seven innings in his first Dodger start July 9, Nolasco didn't make it out of the sixth inning in his next five. But he now has three consecutive quality starts, and in his Dodger career has a 2.53 ERA over 53 1/3 innings in nine outings with Los Angeles.
With Atlanta losing, the Dodgers moved to within a game of the best record in the major leagues.