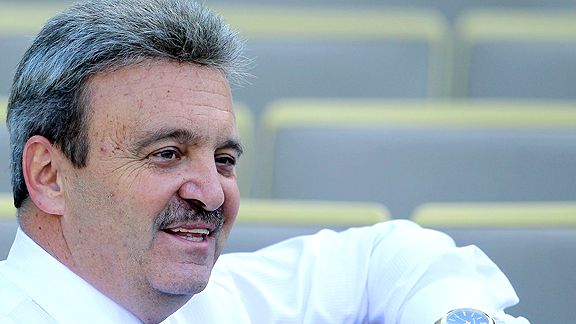 Jeff Gross/Getty ImagesNed Colletti is beginning his sixth season as Dodgers general manager. The team has averaged 86 regular-season victories during his tenure.
Ten days.
The Dodgers rose from the basement of the National League West in May to the best record in the league in June, then sat only two games out of first place in the division at the All-Star Break.
Yet as far as Dodgers general manager Ned Colletti was concerned, it was almost a mirage. During an interview at his Dodger Stadium office last week, Colletti fully acknowledged that the Dodgers' second-half fade, as much as he and everyone else tried to reverse it, came as disturbingly little surprise to him.

Ten days. In Colletti's view, that's how long the Dodgers played championship-quality baseball in 2010.
"I think the second half, in a lot of ways, was the result of the first half and the spring," Colletti said. "I can't say I had more than a 10-day period where I thought we were truly playing as well as we could play. In '09, we had a pretty good defense, and we executed, played well in clutch situations, found a way to win games. We really hadn't done that very much in the first half of the season. And I think it caught up with us in the second half.
"And what I did last year wasn't acceptable. How I prepared for last year didn't meet the results that I have for myself."
The Dodgers will arrive to spring training later this month, in many ways, a different team than a year ago, starting with a greater emphasis on starting pitching that represents Colletti's most visceral response to his roster concerns from 2010. At the same time, Colletti said the experience the returning core gained from last year's disappointment has the potential to play a significant, positive role in 2011.
"They're professional, and this is their livelihood," he said. "And you believe there's enough pride and adjustment and education from this past year. A lot of guys haven't gone through what they've gone through in the past year. That will put them in the right place coming in to know it's got to be better and it's got to be more focused.
"Because they've (succeeded) before, I'm confident. But then, last year was what it was. I'm cautious by nature. I take nothing for granted, at any point in my life at any stage. So I don't take it for granted that it's just gonna happen. I think it has to be prepared in order to happen.
Translated, Colletti believes the talent is there but the effort, focus and confidence need to return. He said the offseason preparation "is done to some point, and when you get to camp now it's going to be up to Don [Mattingly] and his staff to have certain procedures in place and certain accountability set forth. And I obviously have to support that, and they have to buy into it."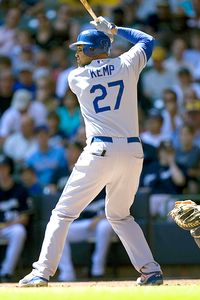 Jeff Hanisch/US Presswire
Matt Kemp had homered once in 31 games prior to hitting one out in each of his final five games of 2010.
Comeback kids?
Despite leading Dodgers regulars on offense, Andre Ethier never fully seemed to recover from the pinky injury he suffered in May and fed doubts about his long-term ability to hit left-handed pitchers (.625 OPS against them in 2010, .681 for his career). James Loney went from decent before the All-Star Break (.803) to disastrous after (.616). Jonathan Broxton's second-half collapse is as well-documented as anyone's, and Matt Kemp … well, let's just say his season could have been the inspiration for what made Linda Blair's head spin in "The Exorcist."
The question, Colletti agreed, is which of the players will hit a hurdle in their development in 2010, and which have hit a wall. And it's a question that's due for an answer. Mulligans that were handed out last year won't be found so easily or at all in 2011.
"In the past, I've been more patient than open-minded," Colletti said. "I think that one of the toughest characteristics you have to have in these jobs is patience because everybody expects everything to turn overnight. … It doesn't work that way. Everybody's human; these guys are all human. They take maturation, physical maturation, all kinds of processes.
"I won't be able to be just completely patient with it [this year]. We're not an old team, but we're not a team overwhelmed with rookies, either. We have experience, and a lot of our players have been to the postseason at least twice and sometimes three times in the last five years. So it's there, it's really kind of going back to that point and being focused about it and passionate about it and tough-minded about it."
It might surprise people to learn that Colletti seems particularly bullish about Kemp, the target of a radio critique by Colletti in April.
"I think probably from middle of August on, things became a little bit more focused for him," Colletti said. "He and I had a conversation, probably in August, that was really a man-to-man, heart-to-heart, one-on-one conversation. And I was trying to take some of the weight off. I think he understands it; I think he understands what transpired last year. I think from my conversations this winter, from the last month of the season and this winter, I think he understands more than he did a year ago about himself and about the game, about preparation. So I think he's got a chance to really have a great year."
It's possible Colletti might have said the same thing about Russell Martin, except Martin is no longer around. The circumstances of the Dodgers' decision to let Martin go rather than offer him salary arbitration weren't discussed, but Martin's recent offseason comments about "distractions" that affected him led to a broader comment from Colletti about the difficulty of playing in Los Angeles.
"Sometimes, it's commitment, prioritization and commitment," Colletti said. "I read what Russell said, but I don't know what the true context was or what his underlying thoughts were as to why he said it. … There are a lot of distractions in this city. There's a lot of different things to be doing, a lot of places your mind can wander off to, but if you're a professional baseball player, if you're a Dodger, you've got to figure out life. … And it's not easy to do it."
Without going into many specifics, Colletti indicated that the ability to play in Los Angeles is a factor in some trades of young players he has made. He called Carlos Santana the prospect he regrets parting with "probably more than anybody" before he added that there were a couple of other guys he would have to wait and see on.
"Again, Los Angeles isn't for everybody," Colletti said. "Sometimes we make a move on a player because we know in this environment here, they're not going to be very good in it."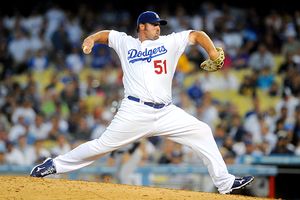 Chris Williams/Icon SMI
Jonathan Broxton issued 25 of his 28 walks last season after June 23.
Pitching paradoxes
As for Broxton, count Colletti among those who see his second-half crumble as an issue of confidence, rather than health problems that might have been caused by his 48-pitch tar-and-feathering against the Yankees last June.
"He never complained," Colletti said. "And at the end, he wasn't thrilled with it, but I said, 'Jonathan, I need you to take a complete physical — your arm, your shoulder, your elbow.' A week to go in the season. And he said, 'I feel great. I don't need to do it.' And I said, 'I need you to do it.' So he said, 'I'll do it,' and everything came back clean."
Colletti is aware of the volatility of relief pitchers, comparing them to great goaltenders who can go through "a month or two where they can't stop anything." But this awareness cuts both ways. It leads Colletti to give relievers who have performed in the past long leashes, and it compels him to have as many alternatives on hand as he can, as seen through the acquisitions of set-up men Matt Guerrier and Blake Hawksworth and oblique references to No. 6 starter Vicente Padilla's potential to close games.
Again, however, Colletti believes that at rock bottom you can often find a trampoline. Look no further than Chad Billingsley, banished from the Dodgers' starting rotation by the end of 2009 before rising anew last season.
"Most of our young players did not experience a lot of failure as young players, minor leagues [or] early in the big leagues," Colletti said. "They really didn't struggle. And when it finally hits you, and you do struggle for whatever reason and you're doing it in front of 45,000 people in Los Angeles all the time, on television every day, that's a tough time to struggle for the first time, for the really first time, and be able to come out of it."
Interestingly, Colletti's faith in failure recovery played a partial role in what many believe is the Dodgers' greatest weakness heading into this season: the lack of a bona fide left fielder.
Angst in the outfield
This winter, the Dodgers didn't bid on the two marquee outfield free agents, Carl Crawford and Jayson Werth, and you can safely conclude that was a reflection of their overall contract demands and the Dodgers' budget. But when it came to alternatives, Colletti was wary of blocking two Dodgers outfield prospects who could each be major league ready a year from now, Trayvon Robinson and Jerry Sands, especially after the experience Robinson had in Jacksonville last summer.
"Robinson last year started off slow in Double-A, and we stayed with him and he figured it out," Colletti said. "That to me was huge. Because he's gonna have to figure that out. Because everybody struggles up here."
There is the caveat that it's not as if the current Dodgers never struggled in the majors or minors before 2010 — one could easily make the case that they did, but that their subsequent triumphs blotted out the memory. In any event, if he had found a signable veteran outfielder worthy of a multiyear deal, Colletti no doubt would have pulled the trigger. But he does feel optimistic over the long term about what he has.
"If I would have signed a left fielder for three years, who was again not one of those robust guys — I'm not sure there was a guy out there — then I'm really kind of blocking one of those two kids, and I've got faith in both of them," he said. "Hopefully, not this year. Hopefully, it's a year from now, but I have faith in both that they'll be able to play and contribute. And actually I told them both that, too, in the fall — I told Trayvon way back in the summertime, 'It's important for me to know who you are and how you play. Because you know what, Manny's not gonna be back next year. And I've got to make a decision whether I'm gonna go and tie up his spot for three or four years, or be patient and mix and match for a year and wait for you.'"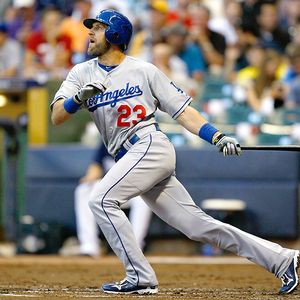 Scott Boehm/Getty ImagesCasey Blake had an .895 OPS against lefties last year, .663 against righties.
In the interim, Colletti is under no illusion that he has gold in the third outfield slot, so the Dodgers will essentially play it by ear in the outfield, with Mattingly looking at matchup opportunities for Tony Gwynn Jr., Marcus Thames, Jay Gibbons and Xavier Paul (if he makes the squad), and on an infrequent basis, Casey Blake or Jamey Carroll.
"Right now Matty's the center fielder," Colletti said. "Andre's the right fielder. I want to see what Tony can do offensively. He'll play as much as the offense allows him, I think … using the whole field, bunting more, figuring out ways to get on base, because his on-base percentage isn't high even when he hits .270. See if he can become more disciplined at the plate, use his speed more to get on. I don't expect power out of him. I don't expect gap power out of him, but I would like to see him get on base a lot more, because if he does it perhaps changes the dynamics in the outfield.
"And in the meantime, I've got two guys that can hit, one from the left side and one from the right side — actually two from the left side with X. Paul and Gibbons, and then Thames. … And perhaps they're five- or six-inning guys, and then you go defense later. But you've got two guys that might be able to hit 20 homers between them."
Third base offers a secondary question for the Dodgers because, while Blake is sure to start against lefties and some righties, no one seems to be beating the drum for him to play 146 games like he did last season. With the Dodgers' minor leagues fairly thin at second and third base, this time Colletti took the plunge on a multiyear stopgap in Juan Uribe.
"Our system's produced a lot of guys," Colletti said. "But except for really [Ivan] DeJesus, we don't really have a second baseman that's on the verge of being here. We have a shortstop coming probably in Dee Gordon and after him [Jake] Lemmerman, and right now third base is a bit of an open spot too — we had [Pedro] Baez in the Cal League last year. So Uribe, while the on-base percentage isn't Moneyball-ish or whatever, the run production is still pretty good, in that he can play second, short or third, and we don't have anybody that's going to press him at third for a while, and really De Jesus is trying to transition to play second. I needed somebody I can run out there who's a big league guy."
Because of what he sees as a potential benefit to have Uribe play some at the hot corner, Colletti emphasized that De Jesus has a legitimate chance to make the Opening Day roster as a backup infielder. Obviously, someone like Carroll could also make several starts to allow Blake to rest.
In any case, Colletti is aware of how much a juggling act the Dodgers' everyday lineup has become. Though he has in one sense traded last year's lack of a fifth starter for this year's lack of an everyday left fielder or third baseman, Colletti sees the two situations as apples and oranges.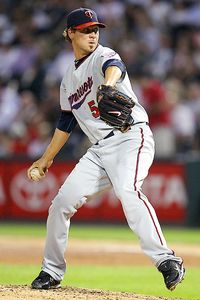 Jonathan Daniel/Getty Images
Matt Guerrier, 31, has allowed 11.5 baserunners per nine innings in his career.
Never enough
"You really didn't have in my mind many choices that were going to be able to play every day," Colletti said. "We had to fix the pitching first, and we had to upgrade the bullpen if we could.
"You can't finesse pitching. Maybe a day here or there, but you need to have it. And the list [of available pitchers], we were kind of picking near the top of the list, even though it isn't sexy to say you signed Ted [Lilly] or Hiroki [Kuroda], it's not necessarily 'wow,' but it's solid. It gave us a little bit of depth. So we had to start there. The kid from Minnesota, Guerrier, is gonna be a good add for us. He's pitched in a lot of big games; he's always had positive results.
"It's the most volatile group, but once [Joaquin] Benoit got three years and [$16.5 million], that's what people expect to get … and if you really need a guy, sometimes you have to go the extra distance to go and get him."
Add together the total commitments the Dodgers made to their free-agent signees of this past offseason, and you barely pass the total value of Adrian Beltre's deal by itself, while falling short of the Crawford or Werth contracts. And like it or not, Colletti was not going to enter another season shy on pitching or dependent on unproven rookies such as James McDonald or Scott Elbert.

"I was apprehensive all winter long last year" Colletti said of the starting pitching. "I knew we were short going in; I knew we weren't going to be able to rally it. In the spring, J-Mac and Scotty both struggled. We may have sent them both out early, in fact, because they couldn't throw strikes; they were all over the board. So right from the beginning, I knew we were going to be short. I didn't know how we were gonna mix and match, and we couldn't afford an injury certainly."
If there's an ongoing concern on everyone's minds, it's how the Frank McCourt ownership crisis is affecting spending on the team on the field. You can argue that different owners might have allowed Colletti to sign one big-ticket free agent in addition to shoring up the pitching, but Colletti doesn't contend that the divorce itself is having an impact on personnel.
He also makes the case, as McCourt did a year ago, that the Dodgers are aiming to spend more money to deepen their prospect population.
Farm aid
"We've had basically the same [major-league] payroll," Colletti said. "Though we dipped a little bit last year, we're coming back this year. It's not really how much you have, it's where you spend it. We do have to get better at international signings; we have to reinvest there. I think we've let Venezuela slip for a few years, and we've made some changes in the staffing.
"We've done a decent job in the D.R. [Dominican Republic] — not what we did 25 years ago, but with all due respect, 25 years ago there wasn't 30 teams down there, either. So, it's not like we could just cherry-pick the players we want like we probably did at the outset of the country opening up to having players signed. But we do have to get better at that to support our player development system. It's been fruitful. Obviously, a lot of players are in the big leagues now that we drafted, but we have to keep flowing, and they have to keep getting better. I know we've hit a touchable lull right now and I think we're probably a year or two away from having another group come forward."

[+] Enlarge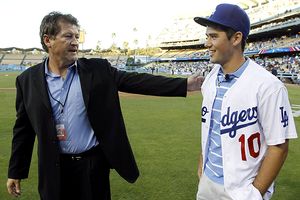 Chris Carlson/APLogan White escorts newly signed Zach Lee in his Dodger Stadium visit in August.
Colletti didn't rule out the Dodgers' top draft choice of 2010, Zach Lee — whose signing shocked most baseball observers — being part of the Dodgers' graduating class of 2012. Amid the height of McCourt tensions, Lee received a $5.25 million signing bonus, a record for a Dodgers' draft pick. The previous record-holder, Clayton Kershaw, reached the majors less than two calendar years after he was picked, and Lee could do the same.
"We really liked this kid," Colletti said. "We really liked his makeup, his demeanor, his abilities, athleticism, his toughness. … Not only are the physical skills different than most kids you see, but the way his mind works is different … probably from playing at the highest levels at a couple of sports, including going to LSU for a summer and having that experience, which as long as he didn't get hurt it didn't bother me."
Colletti's hope is that the Dodgers' minor league pitchers drafted in previous years allow Lee as much time as he needs to develop. There was an epidemic of setbacks among the farm system's arms in 2010 — so many that if Colletti wants to see who can overcome hurdles, wish granted.
"It's concerning to me," he said. "Probably a lot of the guys that we could both probably name should be a year farther along than they are. They've all struggled with command. … Some are converted players, some weren't pitchers necessarily in high school or college. So they're still learning that.
Curing the epidemic
And to circle back to the beginning of our piece, in some ways, older players never stop learning and developing. Witness Colletti's additional assessment of the contagion that struck the Dodgers' offense in 2010:
"I think hitters sometimes without results start to get impatient, so they start to chase out of the zone," he said. "They're trying to build more offensive numbers in a quicker period of time and so they're not as diligent to work the count, and all that stuff starts to compound through the course of it. … When people are starting to slump, sometimes it produces more guys that go in that direction than less. And that's what started to happen. It started to spiral where one guy struggled and then two. And then the third guy saw the other two and then he struggled, and it continued to mount."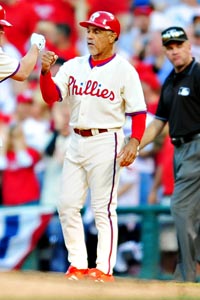 Alex Gallardo/APDavey Lopes will switch to a Dodgers' uniform for the first time since Game 6 of the 1981 World Series.
When you take Colletti's view of what went wrong with the Dodgers last year and what's needed to make it right, it makes sense that he sees one of the most promising offseason moves as one that even some jaded Dodgers fans embraced: the hiring of Davey Lopes as a coach.
"I've known him a long time and I've admired him," Colletti said. "You know, I was with him in Chicago when he was still a player and I've certainly watched him from the other side of the field when he managed and when he was coaching. And I think what he brings here is — you're talking about first — someone who was an iconic Dodger who understands Los Angeles and understands the Dodgers and was here during one of the greatest periods in our franchise's history. That's important.
"What he did in Philly with baserunning and defense and fine-tuning that position, the first-base coaching position, to make it a far more valuable position to the organization, is something we noticed. And I think he's going to have a great impact on our club. I think there are some players that could turn their game up a notch with his instruction, with his thought process. I think, while it's a coaching position, I think it's a huge addition for this franchise."
Will a new manager, new coaches, new players and new spirits be enough to right the Dodgers' ship? It's too soon to say, but if the Dodgers are to play more than 10 days of great baseball in 2011, Colletti will expect to see strong signs of it before Opening Day arrives.